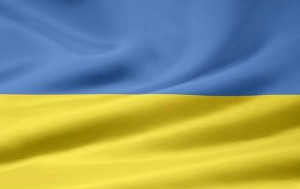 On the 21st of December Ukraine will pick its representative for next year's Eurovision Song Contest in Copenhagen, Denmark. In the running for this honour is 20 candidates picked by a jury consisting of people involved in the music industry.
The 20 acts announced by broadcaster NTU will take part in the Ukrainian national final to be held on the 21st of December this year. They were picked, among 50 applications, by a jury that consisted of Vladislav Baginskiy, music producer of NTU, Michail Nekrasov, Ukrainian composer and producer, Zhenya Feshak, radio host, and Vladimir Kozlov, program director of RuMusic channal.
Fighting in the Ukranian national final are:
Duet Anna-Maria – 5 Stars Hotel
Roman Polonskij – Wanted Dead Or Alive
ULI RUD – Tswetok (Flower)
Marietta – It's My Life
Stas Shurins – Why
Anatoli Shparyov – Waiting For You
Nataliya Valevska – Love Makes You Beautiful
Lissa Wassabi – No Fear
Volodymyr Tkachenko – Buty Tam De Ty (To Be Where You Are)
Shanis – Moya Dusha (My Soul)
Victoria Petryk – Love Is Lord
Evgen Litvinkovych – Strelyanaya Ptitsa (Wounded Bird)
Band NeAngely – Courageous
Illaria – I'm Alive
Tetyana Shyrko – Let Go
Tania BerQ – Believe Me
Maria Yaremchuk – Tick-Tock
Victor Romanchenko – Na Krayu Propasti (On The Brink Of The Abyss)
Anna Hodorkovska – Yesli Yest Lyubov (If There Is Love)
Denis Lyubimov – Love
At the 2013 Eurovision Song Contest Ukraine finished third when Zlata Ognevich made Europe fall in love with Gravity. That song you can see below in our 3D edition. If you don't have a pair of suitable glasses yes, it can easily be turned off in the player for regular 2D viewing.