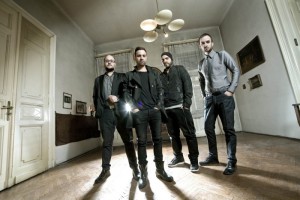 Compact Disco, the Hungarian electronic rock band who represented their country at the 2012 Eurovision Song Contest, is one of the headline acts at the 20th Sziget Festival in Budapest. For the first time, a live stream of one of Europe's most popular music events is available on YouTube.
Sziget Festival is celebrating its 20th anniversary and the event was officially named as Europe's Best Major Festival earlier this year. That is why organizers have decided to do something special and, despite already hosting 400,000 people from over sixty countries who are expected to attend, they are keen to invite fans from all over the world to join the party through their official YouTube channel.
A total of fifty concerts are being live streamed on YouTube between 8 and 12 August, from 15:00 CET till late at night every day. The YouTube broadcast consists of three teams working on the three different stages of the open-air festival with fourteen HD cameras so that will make possible that the YouTube audience feels part of the show.
Among the big names, who will perform at week-long festival which is one of Hungary's biggest tourist events there are Placebo, LMFAO and The Killers but the line-up also includes acts such as Korn, Mando Diao, Snoop Lion and the British band Hurts, as well as bands from Europe such as Kraak & Smaak from the Netherlands, Karmatronic from Italy, Serbia's Emir Kusturica or Agnes Obel from Denmark to name a few.
And one of this more than 150 groups from all over the globe there are this year's Hungarian representatives at the Eurovision Song Contest, Compact Disco. Their performance will take place this Friday, August 10 starting at 18:30 CET at the A38 Stage and both attendees and those who will be watching the concert live on YouTube will hear all the big hits of the band among, which will be included on their first single I'm In Love, Feel The Rain, the recently released Leave It Up To Me and of course their Eurovision Song Contest entry Sound Of Our Hearts.
Just go to the official YouTube channel of the Sziget Festival at 18:30 CET and enjoy the show! If you miss it or just you want to see it again, the video will be available to watch it anytime in the upcoming three months on the festival website.
Meanwhile, below you can watch our 3D video of Compact Disco performing Sound Of Our Hearts at the 2012 Eurovision Song Contest. As always, we strongly recommend watching this video in 3D to enjoy it to its fullest, but if you do not have a pair of suitable glasses this can easily be turned off in the player below to watch in regular 2D.