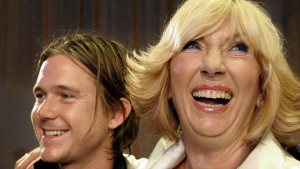 Singer Willeke Alberti has long since become one of the most respected and beloved artists in the Netherlands, with a career spanning over fifty years. The singer now wants to give something back and is hoping to do so with the help of her son, Johnny De Mol and another family connection.
Willeke Alberti had her breakthrough with the release of her first single in 1958, a duet with her father. She enjoyed a string of hits in the sixties, including her Dutch number one single De Winter Was Lang (It Was a Long Winter). She also had a television series with her father in the late sixties, further consolidating her status as a household name. Despite receiving a scant four points, representing the Netherlands at the 1994 Eurovision Song Contest in 1994 with the rousing ballad Waar is de Zon also remains one of her career highlights.
Over the years Willeke has become known as something of a humanitarian, supporting numerous charitable causes. She now wants to focus her attention to the orgsanisation Stichting Het Vergeten Kind (The Forgotten Child), a children's charity that helps children who've been abused and neglected. Ms. Alberti intends to raise money for the charity by collaborating with her son, Johnny De Mol and re-recording one of her old hits, De Glimlach Van Een Kind (A Child's Smile). Johnny De Mol has also made a name for himself in the Netherlands as a DJ, actor and TV presenter.
As if those family ties weren't enough, there is another family connection behind Willeke's idea to raise funds and awareness for the charity. The song they are to release, De Glimlach van Een Kind, was originally a single released by Willeke's father, Willy Alberti, back in 1968. The song was re-released shortly after Willeke's Eurovision appearance, in 1995, though as a duet between father and daughter. Johnny acts as an ambassador for the foundation Het Vergeten Kind and revealed plans of the upcoming duet yesterday evening when taking part in the talk show RTL Late Night. Eurovisionary wishes Willeke and Johnny the very best of luck with their project and hopes it helps raise both funding and awareness for such a worthy cause.
You might also like to read: