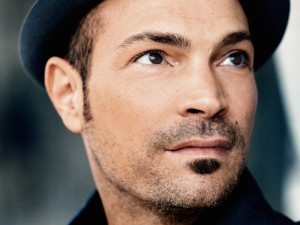 Former German Eurovision entrant Roger Cicero has decided to start the new year by revamping his website, the release of a new single, a new album and the confirmation of his forthcoming tour dates. Frag nicht wohin is the title of the lead single from his album Was immer auch kommt, due for release later in the spring.
Talented songster Roger Cicero really brought a nostalgic big band feel to Eurovision when he represented Germany at the 2007 contest in Helsinki with Frauen regieren die Welt, coming 19th. The single went on to become a smash hit in his native Germany, as did all four subsequent album releases. His last studio album, In diesem Moment was released back in late 2011 and peaked at number 4, shifting enough units to sell to gold status. Now, the versatile artist is back with a vengeance, having already released his first new single in eighteen months, Frag nicht wohin.
Frag nicht wohin is the lead single to be taken from his forthcoming album (his fifth solo effort) Was immer auch kommt, which is to be given both a physical and digital release at the end of March on the Starwatch (Warner) label. The album contains thirteen songs, with the full track listing as follows:
01. Was immer auch kommt (Whatever Comes)
02. Glück ist leicht (Happiness is Easy)
03. Wenn es Morgen schon zu Ende wär (If Everything Ended Tomorrow)
04. Straße (Street)
05. Wenn du die Wahl hast (If You Have The Choice)
06. Endlich wieder frei (Finally Free Once More)
07. Du bist mein Sommer (You Are My Summer)
08. Durch deine Augen (Through Your Eyes)
09. Hollywood
10. So sieht man sich wieder (So We Meet Again)
11. Knapp daneben (A Near Miss)
12. Das Leben ist auch nur ein Mensch (Life Is Only Human Too)
13. Frag nicht wohin (Don't Ask Where)
In conjunction with the release of a new single and to celebrate his forthcoming album, Roger Cicero has also given his offical website something of a revamp and has at the same time released tour dates for later this year. The tour, bearing the same name as his album Was immer auch kommt will kick off on the 3rd of May in Gronau and consist of thirty dates, including two gigs in Austria and culminating in a final concert in Lingen on the 30th of October. Tickets for the dates start at €47 and a full overview of all concert dates and venues can be found on the Eventim website. If you're impatient for the release of Was immer auch kommt, why not check out the music video to his latest single Frag nicht wohin below.
You might also like to read: