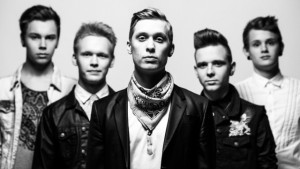 With the first performances out of the way, it was up to the public and jurors to determine tonight just who would win the first spot in the final of UMK 2014. Would soft rock triumph over pop, or would viewers go for style rather than substance? Eurovisionary tuned in to see who would become the first Finnish finalist for the first of February.
The Finnish national selection finally kicked off proper tonight, with the first qualifying round. With ony one ticket to the final up for grabs, the heat was turned up for all six entrants. One unlucky act would be eliminated tonight, while the remaining four would live to see another day. Out of a total of 420 submitted entries, only twelve made it through to the final rounds, the first six of which would be pitted against each other tonight.
The songs:
1. MIAU – God/Drug
The three ladies in MIAU made quite an impression on the jury with the first presentation of their entry God/Drug. They had the same stage set up as in their first performance, but this time they had two danceres on either side of the drummer at the back of the stage. Their outfits were equally as outlandish tonight, with a rather ethnic vibe and the highest hair on the bassist that would have given Rona Nishliu a complex. They had obviously been rehearsing, because it was clear that their performance had come on in leaps and bounds. They strutted with self confidence, were vocally vastly improved and really looked as if they were having a cool time on stage. The audience were enthusiastic, to put it mildly once their show was over and judging by the screams from the hall, the feedback from the judges was overwhelmingly positive too.
2. Dennis Fagerström – My Little Honey Bee 
Dennis took to the stage to great cheer from the hall. He was looking very dapper in a black suit with white shirt and black
tie. He was accompanied by two male backing singers dressed in white tops and plain grey pants. A bassist, drummer and keyboardist also helped out with the performance. He was much more confident with his performance of My Little Honey Bee this time around; made much better use of the stage moving around a lot more and making a lot more camera contact. His vocals were passable; this is a song that has been tweaked a little with since the first initial listening, but it is still by no means complicated. Nevertheless, although his vocals were much improved, they were still rather flat in some places, especially when he had to use a deeper register. An average performance of an average entry.
3. Lili Lambert – Let Me Take You There
Lili Lambert had her blond hair piled on her head in one huge curl, and was sprting a gold jacket over a black catsuit. With her on stage she had two guys dressed in black bomber jackets with matching caps playing portable keyboards, as well as two dancers/backing singers and a drummer. The stage was bathed in orange hues pierced by white rays. The stage came alive when she performed her entry – you could really feel the groove and party atmosphere. Lili seemed so secure when she sang, and her vocals were spot on. Her perfomance was empassioned and gutsy, and her voice really does suit synth soul perfectly. A spirited performance that should see her avoid elimination.
4. Hukka ja Mama – Selja
Now it was time for country to enter the hall – it would be interesting to see what the audience made of this. Singer Martina was sporting possibly the most bizarre head gear of the evening – they were what looked like two huge crayons in the back of her hair, with a brownish dress that looked like it was made of fishing garn. Guitarist Lasse was wearing a red jacket, bowtie and beige pants. They had a roccoco sofa on stage with them for some unknown reason, and were also joined by two guitarists and a drummer. They gave a playful, extremely vivid performance so that those present could almost smell the sawdust and saddle grease. There was some great camera work, filming in a circular motion around the stage. Vocally, Martina was spot on, delivering the goods when it mattered and showing no sign of nerves. Their accomplished performance was a real hit with the audience – they brought the house down. Who'd have thought it, country music is quite obviosuly big in Finland!
5. Softengine – Something Better 
Softengine strode confidently on stage which was flooded by red and lit up with white beams which came alive once their performance was underway. From the very first drum beat, the band came in and owned the stage, looking and sounding every bit as professional as the likes of other stadium groups such as U2 and Keane. Vocalist Topi was in fine voice, in fact the only fault that could be found is with his pronunciation in parts and that he can be quite the anti performer at times, closing his eyes. He delivered with immense energy, as did they all; his voice was really, really impressive, alternating between falsetto and raspy growls. A fantastic show that both jurors and the audience really liked.
6. Jasmine Michaela – Kertakäyttösydän (Throwaway Heart) 
Young budding artist Jasmin Michaela was the final act out tonight and it was clear she was aiming to use her seductive charms while performing her heavily rhythmic ethnic entry. She was dressed in a style slightly reminiscent of a younger Nanne Grönwall = think Avundjsuk, wearing a black figure hugging catsuit with gold chain detail which was also adapted for the costumes of her two female dancers. On stage she was assisted by three female backing singers. Jasmin Michaela really sang the socks off this one – the heavy, suggestive beats had the crowds going wild – it is a really appealing mix of east meets west. She oozed confidence as she stood there writhing and belted out her tune, not missing a single note. As hypnotic as a snake charmer, this has everything going for it. OK, it sounds slightly outdated, but the overall sound is extremely infectious and this could be a serious contender for the final ticket up for grabs tonight.
The show:
Hosts Ile Uusivuori and Anne Lainto were on hand again tonight to guide both viewers and audience through the proceedings and to wish us welcome to the Peacock Theatre in Helsinki. Ile was sporting a mohican and a short sleeved leather wasitcoat/shirt creation, which was quite masculine. Anne Lainto was playing it safe, wearing
a simple black creation covered in black tassels which was extremely elegant. The stage was a nice size, the venue intimate. At the back of the stage were three giant illuminated UMK letters, in the style of Las Vegas, and they stood there throughout.
Jurors Tomi Saarinen, Aija Puurtinen, Toni Wirtanen and Redrama were sitting directly in front of the audience watching the every move of the acts performing tonight. Anne introduced wach act while sitting among the audience, which was a nice touch. Each act was presented by postcards showing them rehearsing and speaking of their experiences and their road to UMK.
Once all entries had been done and dusted, we were treated to a recap to refresh the voters memories as their televoting numbers were announced and before lines were opened.
The voting / result:
Tonight's results would be determined by a combination of televoting and jury votes. Not surprisingly, based on two strong performances, Hukka ja Mama and Softengine did very nicely once the judges had cast their votes, with Softengine emerging as the winner. Would the viewers votes reflect the same taste as the jurors? Once the votes had come in, it soon became clear that soft rockers Softengine had managed to sway both jurors and viewers alike with their entry Something Better, snatching the first final ticket from the clutches of Hukka ja Mama. Lili Lambert was unfortunately the one who drewthe shortest straw, being voted off tonight. Dennis Fagerström, MIAU, Hukka ja Mama and Jasmin Michaela all live on to fight another day, taking part in the second chance contest on the 25th of January.