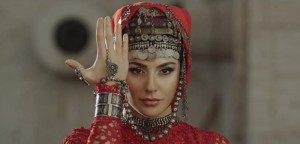 Today Sirusho released a new song which is dedicated to what is known as the Armenian Genocide. She chose today, the 24th of April, for her release as it marks the 100 years for the day where the Armenians are remembering. The song is titled Where Were You and is a project which Sirusho is very proud of.
Sirusho represented Armenia at the 2008 Eurovision Song Contest where she reached a 4th place with the song Qele Qele. Today she released her new song, Where Were You. It's a folk song, half in English and half in Armenian.
The song was released in a video and depspite the situation with the 100 years anniversary of what is considered The Armenian Genocide, she weren't very strong in her Facebook message to her followers:
"My recent works are inspired by the Armenian beats. The folk dance "Yerek Votk of Lori", both with its rhythmical structure and the dance steps , is used as a basis on which we created a completely new song and dance. Throughout our history, even in the most difficult times, we were able to find strength and courage through singing and dancing. This is a characteristic of a strong nation which I'm very proud of.

Each language has its own message. The Armenian lyrics are what I feel I want to say to the Armenians. The English lyrics are a question or a demand addressed to the "indifferent" people of the world.
I want to say Thank You to the great people I worked with on this project."

Until now 25 countries have recognised the events in 1915 as Genocide. Yesterday, only one month before the Eurovision Song Contest take place in Vienna, Austria became the last country in the list which officially recognised it as such. Turkey and Azerbaijan are the strongest oponents of this as genocide.
Below you can watch the video of Sirusho's new song Where Were You.
You might also like to read: