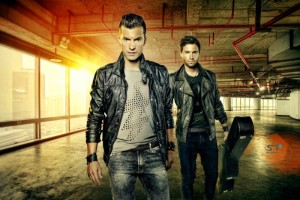 Ivan and Gabriel Broggini, the brothers who represented Switzerland at the 2012 Eurovision Song Contest, have recently released a new album titled Up To Me. It comes with a clear and meaningful message: "whatever I do, if it is good or bad, it will always be Up To Me. Make the most of it and enjoy!"
After their participation at the 2012 Eurovision Song Contest with Unbreakable, the two brothers Gabriel and Ivan Broggini have become a household name all over their country Switzerland and the rock band Sinplus have also become very well-known Europe wide.
For the past few months they have put all their energy into the renowned 140dB Studios in London where they have been recording their new album, Up To Me, which has just been released. This is the second album of their musical career and it contains ten unreleased tracks that showcase the amazing energy of the brothers.
With Up To Me, Gabriel and Ivan prove to be very compelling rock musicians and listening to the lyrics of their forceful and melodious songs they have demonstrated a great ability to play with words but always with a motivating and positive message.
In this album they are also exploring new sounds such as reggae. An example of that is the song Love Is Free which they sing along Lady Chan.
The first single of the album, Phoenix From The Ashes, became an instant success and entered the Swiss charts immediately after its release back in October.
The album's title track, Up To Me, has been chosen as the second single. It is a powerful and catchy song with a positive message, just like all the songs from this new album.
Besides the ten hit songs, the album has an elegant and original cover design featuring highly symbolic imagery.
The track listing is as follows:
1. One Flag
2. Phoenix From The Ashes
3. Let It Soar
4. Up To Me
5. Love Is Free feat. Lady Chan
6. You'll Rise Again
7. All I Need
8. Desire
9. Over The Rainbow
10. Thank you
You can watch the official video clip of Up To Me and the lyrics video of Phoenix From The Ashes below where you will also find the link to purchase the album.
You might also like to read: