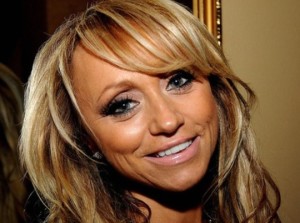 Fan favourite Nanne Grönvall has been absent at both Melodifestivalen and on the music scene for a number of years. But now she's on her way back into the limelight, bigger and bolder than ever with the release of a new album. The starlet spoke openly to Swedish media about the experiences surrounding her latest release.
Nanne Grönvall has been part and parcel of the Swedish national preselection Melodifestivalen more times than she cares to remember. With huge hits such as Avundsjuk (remember her Dr. Spock ears and equally wacky outfit from 1998?), Håll Om Mig and Jag Måste Kyssa Dig, the versatile artist has surfed a tide of popularity, both in the mainstream as well as among Eurovision fans.
The artist has taken quite a lengthy time out from the music scene following the unexpected death of her mother, she told Swedish press recently. As part of the healing process during her bereavment, she wrote the song Jag Saknar Dig, conveying her innermost thoughts about the loss of her mother. She told Aftonbladet: "I wrote down all of my thoughts and feelings. I was able to put into words what I was going through even after all this time, how I miss her so. It was a difficult track to record, because it was very emotional for me. It means a lot to have it included on my latest album." Her husband Peter Grönvall, son of ABBA's Benny Andersson has also been of great help to her in her time of need. Some of you might remember him as one third of the group One More Time, who brought Sweden a third placing with the haunting ballad Den Vilda.
But for now, she's back and has the release of her first album in four years to concentrate on. Drama Queen will be released later in the month, and Nanne describes it as an album packed with dance tunes and a few ballads. Drama Queen will be released on the 29th of January on her own Somco label. The full track listing is as follows: 
01. Ingen Dansar Dåligt (Lika Bra Som Jag) (No one dances badly (or as good as me)
02. Drama Queen
03. C'mon
04. Ren Och Skär Plåga (Sheer torture)
05. Gästlistan (The guest list)
06. Inte Lätt Att Leva Med (Not easy to live with)
07. Temperamento (Temperament)
08. Jag Saknar Dig (I miss you)
09. Alltid Retar Det Nån (It's bound to bother someone)
10. Bali
11. Karma
12. Kan Du Ge Dig Fan På (Betcha bottom dollar)
Next year, Nanne will be celebrating her 30th anniversary as an artist, an event which probably won't go unnoticed. During her interview with Aftonbladet, she also revealed plans of her retirement from the music industry, stating: "I'll carry on for another two to three years, tops. Then, I'll start to withdraw gradually, but won't be completely out of the game. I want to concentrate more on managing and writing material for other artists."
You're able to pre order a signed copy of her latest album by using the links below.
You might also like to read: