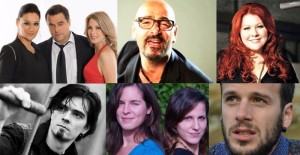 Yesterday, the eighteen acts that had been shortlisted by the regional broadcasters faced the Expert Check where the jury panel evaluated all the songs after listening to them performing live. Six of them have been chosen to go through to the national final.
The eighteen shortlisted acts met yesterday in the SRF studios in Zurich to perform live in front of a jury made up of music experts such as Rafael Antonio, Freda Goodlett, Moritz Faccin, Catherine Colombara, Emile Felber and Nicola Locarnini. These six experts evaluated both the vocal qualities of each artist and their live performance skills.
After listening to all the candidates, they decided that the following six acts deserve a place at the Swiss national final Die Grosse Entscheidungsshow 2014:
• 3ForAll – Together Forever (SRF)
• Nino Colonna – La Luce Del Cuore (SRF)
• Yasmina Hunzinger – I Still Believe (SRF)
• Christian Tschanz – Au Paradis (RTS)
• Natacha & Stéphanie – Une Terre Sans Vous (RTS)
• Sebalter – Hunter Of Stars (RSI)
The artists have exactly two months to prepare themselves for the Swiss national final which will take place on the 1st of February in the Bodensee Arena of Kreuzlingen where each act will perform their potential Eurovision entry as well as a cover of a well-known song.
One of these six acts will be chosen to represent Switzerland in Copenhagen next May and the winner will be decided by the votes of a jury and televoting.
The songs can be listened to on SRF website and below you will find some of their videos.
You might also like to read: