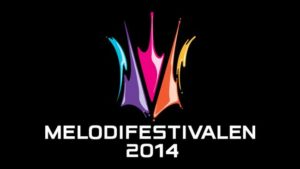 Tuesday saw SVT present some pretty big names returning to the fold for Melodifestivalen 2014. Competition would be pretty fierce in the first two heats from Malmö and Linköping. This morning, the final 16 candidates were revealed – would host cities Gothenburg and Örnsköldsvik be able to match the first two heats in terms of the fame factor?
The annual event that is Melodifestivalen is definitely underway and has begun to gather momentum, with the presentation of the first sixteen acts to compete in the first two semis on Tuesday. This year's host city Malmö will also be getting in on the action next year, when hosting the first heat. Host city of the 1985 Eurovision Song Contest Gothenburg will also be besieged by glitz and glam when it hosts the third heat on the 15th of February, with the town of Örnsköldsvik hosting the fourth heat a week later.
As in the first two heats, the remaining sixteen candidates held quite a few surprises, with once again some big names in the running. Fan favourites Shirley Clamp and Linda Bengtzing are back yet again, trying for a sixth and fifth time respectively. Group State of Drama are back once again, hoping to better their ninth placing with Falling last year. Teen heart throb Anton Ewald also is hungry for revenge following his fourth placed entry Begging and Janet Leon who competed with Heartstrings last year but failed to make it to the final is back for more.
Apart from the familiar Melodifestivalen names, there are some other well known artists among the field. Nineties pop sensation Dr. Alban (anyone remember It's My Life or Sing Hallelujah from the early nineties?) is back, teaming up with soulstress Jessica Folcker, who has also enjoyed quite a few hits both in Sweden and Europe, her biggest being How Will I Know Who You Are? Respected musician CajsaStina Åkerström, known for her massive hit Fråga Stjärnorna in 1994 is also lining up for her first attempt at winning Melodifestivalen. Perhaps the biggest surprise was the reformation of Alcazar, who have enjoyed massive success in their native Sweden and were last seen at Melodifestivalen in 2010.
The complete line up of the third and fourth heats is as follows:
Gothenburg, 15th of February
All We Are – State of Drama (T&M: Göran Werner, Sanken Sandqvist, Emil Gullhamn, Sebastian Hallifax)
Around the World – Dr. Alban & Jessica Folcker (T & M: Dr. alban, Jakke Erixson, Karl-Ola Kjellholm)
Burning Alive – Shirley Clamp (T & M: Bobby Ljunggren, Marcos Ubeda, Sharon Vaughn, Henrik Wikström
Busy Doin' Nothin' – Ace Wilder (T & M: Ace Wilder, Joy Deb, Linnéa Deb)
Echo – Outtrigger (T & M: Joy Deb, Linnéa Deb, Anton Malmberg Hård Af Segerstad, Outtrigger)
En enkel sång – CajsaStina Åkerström (T & M: CajsaStina Åkerström)
Red – EKO (T & M: Linnéa Deb, Joy Deb, Anna Lidman, Hannes Lundberg, Michael Ottosson)
Yes We Can – Oscar Zia (T & M: Fredrik Kempe, David Kreuger, Hamed "K-One" Pirouzpanah)
Örnsköldsvik, 22nd of February :
Blame It On The Disco – Alcazar (t & M: Fredrik Kempe, David Kreuger, Hamed "K-One" Pirouzpanah)
En himmelsk sång – Ellinore Holmer (T & M: Ellinore Holmer, Vanna Rosenberg, Åsa Schmalenbach, Josefina Sanner, Henrik Wikström, Amir Aly)
Fight Me If You Dare – I.D.A (T & M: Albin Nicklasson, Nicklas Laine, Louise Frick Sveen)
Hela natten – Josef Johansson (T & M: Peter Boström, Thomas G:son, Josef Johansson, Peo Thyrén)
Hollow – Janet Leon (T & M: Karl-Ola Kjellholm, Jimmy Jansson, Louise Winter)
Natural – Anton Ewald (T & M: John Lundvik)
Raise Your Hands – Ammotrack (T & M: Jari Kujansuu, Thomas Johansson, Calle Kindbom, Mikael de Bruin)
Ta mig – Linda Bengtzing (T & M: Nicke Borg, Jojo Borg Larsson)
As in previous years, an extra Andra Chansen qualifying heat will take place on the 1st of March, with the grand final scheduled to take place on the 8th of March from Friends Arena, Stockholm. With all artists now known, fans are in for a real treat once the shows get underway.
You might also like to read: