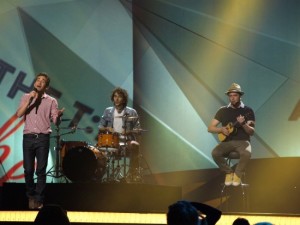 The 20 semi-finalists for the Malta Eurovision Song Contest 2014 were revealed tonight during a special show on TVM. Last month, in total of 210 entries were submitted which were short listed to 70. The 20 semi-finalists will compete for 14 final spots. 
The Maltese final will be held on the 8th of February, with the semi-final the day before short listing the participants from 20 to 14.
The 20 semi-finalists were revealed during a special TV show in which each semi-finalist was announced one by one. Each artist that qualified to the semi-final performed a snippet of the song.
The list of qualifiers includes two former Maltese representatives i.e. Miriam Christine (1996) and Fabrizio Faniello (2001 & 2006). In the semi-final there is also a number of other established artists and new comers.
The 20 semi-finalists (composer & author in brackets)
Same kind of wonderful – Wayne William (Wayne William Micallef, Wayne William Micallef)
City lady – Ryan Paul Abela (Paul Abela, Ryan Abela & Joe Julian Farrugia)
Brand new day – Davinia Pace (Elton Zarb, Muxu)
Let the sunshine in – Sophie Debattista (Sophie Debattista, Lou Mullen, Adam Pakard & Alexander Dew)
Hypnotica – Jessica Muscat (Philip Vella, Gerard James Borg)
Invisible – Raquel Galdes (Philip Vella, Gerard James Borg)
One last ride – Daniel Testa (Stephen Rudden, Lawrence Peter Bridge)
Pin the middle – Debbie Stivala (Peter Paul Galea, Debbie Stivala)
Oblivion – Chris Grech (Philip Vella, Chris Grech & Gerard James Borg)
Until we meet again – Deborah C (Elton Zarb, Muxu)
Because I have you – Amber (Paul Giordimaina, Fleur Balzan)
Love tricity – Christabelle Borg (Magnus Kaxe, Gerard James Borg)
Coming home – Fire Light (Richard Micallef, Richard Micallef)
Safe – Miriam Christine (Mark Scicluna, Emil Calleja Bayliss)
Addictive – Romina Mamo (Linda Persson, Ylva Persson)
Now and forever – Andreana Debattista (Vinny Vella, Karl Spiteri)
Love will take me home – Franklin Calleja (Glen Vella, Beatrice Eriksson, Marcus Frenell & Michael James Down)
Ten – Corazon (Paul Giordimaina, Fleur Balzan)
Take me – Pamela (Boris Cezek, Boris Cezek)
Just no place like home – Fabrizio Faniello (Johan Bejerholm, Johan Bejerholm)
In the last edition, Malta managed to get a good result in the final of the Eurovision Song Contest. Gianluca received a respectable 8th place with the song Tomorrow.
You might also want to read: