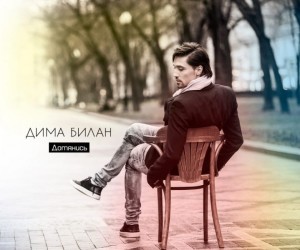 The album contains 15 songs that were collected and recorded over two years, since autumn 2011 until spring 2013. Dotyanis, which means Reach, also features the English and Russian language versions of the duets recorded with the Eurovision former participants Julia Volkova and Nikki Jamal.
Dima Bilan, who represented Russia at the 2006 Eurovision Song Contest with Never Let You Go, finishing second, and who won the contest in 2008 in Belgrade with the song Believe has recently released the eighth album of his discography called Dotyanis which is now available in stores. The recording and mixing took place in Moscow and most of the tracks, which were produced by music producer Andrei Cherny, are sung in the Russian language.
According to Dima's words, Dotyanis is kind of a reflection of a very important period of his life. The initial idea to record this album comes from a mixture of feelings and it was recorded in a nostalgic mood. That is why most of the lyrics talk about the sincere and warm relations between people.
This album features songs composed by such recognised authors such as Denis Kovalsky, Slava Lungu and many others. It also includes two duets with two Eurovision former participants. The first one is Julia Volkova who was one of the members of the Russian duo t.A.T.u. that participated in the 2003 Eurovision Song Contest, finishing third with the song Ne Ver', Ne Boisya. In this album they sing together the Russian and the English language version of the song that they performed at the 2012 Russian national final Back To Her Future. The other Eurovision former participant who teams up with Dima Bilan on this new album singing both Russian and English language versions of Come Into My World is no less than the Azerbaijani Nikki Jamal who won the Eurovision Song Contest in 2011.
The track listing of Dotyanis is as follows:
1. Dotyanis
2. Strannica
3. Tak, Tak Ne Bivaet
4. Vse Uskorilos
5. Uletau
6. Ulybka Angela
7. Holodnye Ogni
8. Lubov-suka (feat. J.Volkova)
9. Honey
10. Come Into My World (feat. N.Jamal)
11. Chasi
12. Lovi Moi Tsvetnye Sny (Dj Fisun Remix)
13. Back To Her Future (feat. J.Volkova)
14. Obnimi Menya (feat. N.Jamal)
15. Ne Otrekautsa Lubya
The video for the brand new single can be seen below. A real apocalypse was made especially for its filming where Dima had to walk around the fire and the smoke bombs. His partner in this video is Julia Sarkisova who already worked alongside Dima for the video of Zadihayus which was recorded a couple of years ago.
You might also want to read: