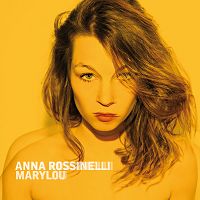 Singer-songwriter Anna Rossinelli is currently the last Swiss entrant to make the Eurovision final, which was back in 2011 with the bubbly In Love For A While. One album and a few singles later, she's back and her latest album has stormed the Swiss charts at the top spot.
It's been a while since Anna Rossinelli last graced the charts in her native Switzerland. Despite coming last in the Eurovision final in 2011 with In Love For A While, the single went on to scale the heights of the singles charts, peaking at number three. An album followed, Bon Voyage, which enjoyed moderate success, just nudging into the album top ten. Her subsequent two singles, Joker and See What You've Done failed to make any impact on the charts, however, so Anna Rossinelli looked destined to become a one hit wonder.
That was, up until now. Yes, Ms Rossinelli is back, and what a return to form with her comeback onto the Swiss music scene! Her newest album, Marylou, was released both as a download and physical CD album on the Universal Music label at the beginning of May. It took only two weeks for the album to rocket to the top of the Swiss album charts, with her current single, the surprisingly tougher sounding Let It Go also breaking the Swiss singles charts. Her latest single was released on the 19th of May and peaked at #26. It's currently hoverring just outside of the top 40 at #44.
All fourteen tracks on the new album are written by Anna together with bandmates Manuel Meisel (guitar) and Georg Dillier (bass) and see the band take their music in a completely different direction to In Love For A While. The band themselves are extremely pleased with the result, claiming that their newest album is a much more personal affair. Marylou, the woman who the album is named after apparently represents the woman of today and the decisions she faces and makes; a woman who refuses to comply with the female role models imposed by modern society. The track listing of their smash hit album is as follows:
1.   Let It Go      
2.   So Damn Pretty   
3.   Until     
4.   Vagabonds (feat. Célien Schneider)     
5.   Marylou       
6.   Pretty Normal Guy       
7.   Head In the Sky     
8.   Chain Reaction      
9.   Burn This City Down (feat. Dieter Meier)     
10. Go Go       
11. She's So Him      
12. Polaroid Picture  
13. Move To Paris
14. Song 2
The video of the new single, Let It Go can be seen below. The album can be bought on iTunes. This year's Swiss entrant Takasa are currently residing at number 32 in the national charts with their entry You And Me.
You might also like to read: