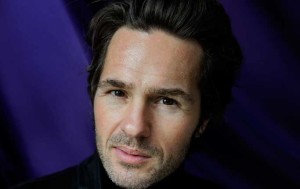 Popular Swedish artist Peter Jöback has entered Melodifestivalen on two previous occasions, and in his home country, his career has gone from strength to strength. He has built a reputation for himself as one of Sweden's premier musical stars, and is soon to become historic.
Artist Peter Jöback's major breakthrough came with the musical hit Guldet Blev Till Sand (Gold Can Turn To Sand). This talented singer seems to have the midas touch however, with everything he turns his hand to becoming an instant success, so it would seem. Prior to his breakthrough in 1996, Jöback appeared in the 1990 Melodifestivalen with his entry En Sensation (A Sensation), returning in 2010 with the Fredrik Kempe penned entry Hollow.
A mere year after his breakthrough, he landed a role in the hit musical in London's West End, Miss Saigon in 1997, which marked the start of a lenghty tenure at the esteemed Theatre Royal in Drury Lane. Since then, Jöback has gone on to star in a number of roles in Scandinavia, parallel to his music career. Fast forward to 2012 and his career came full circle, with Jöback returning to London once more, starring as the lead in the London production of Phantom Of The Opera.
Since childhood, the versatile singer has yearned to perform on Broadway and never in his wildest dreams could he have imagined that he would get to play the actual Phantom in Phantom Of The Opera in New York. The Phantom is perhaps one of the biggest figures in the world of musicals, Jöback told Swedish newspaper Expressen. The star has known about the the tenure for some time now, but has had to keep the news firmly under wraps. The move to New York will in fact make Jöback historic, as he will be the first European to play the lead role in the musical since British Michael Crawford started the monster success stateside, 25 years ago.
It was during his last few weeks performing in London that Jöback met producer Cameron Mackintosh. He asked the ambitious Swede what his plans for the future were, and Jöback wasted no time in telling Mackintosh how much he'd love to play on Broadway and the rest. as they say, is history. The next day. the renowned producer called Jöback, offering him the dream role, which the star likens to "winning a gold medal at the olympics. I am immensely proud and it is an enormous recognition", he told Expressen. And so Jöback has packed his bags once again, relocating from London across the Atlantic to New York, where he is due to make his Broadway debut on the 29th of April. Eurovisionary wishes him every success in his new role.
You might also like to read: