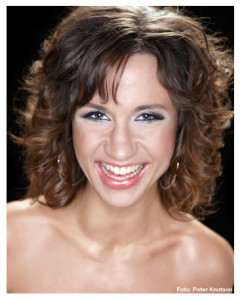 On a press conference just ended SVT presented the host for the 2013 Eurovision Song Contest. Petra Mede, stand up comedian and former Melodifestivalen host, got the task. At the press conference she proved herself to be quite a Eurovision fan. 
Petra Maria Mede is 42 years old and mainly known as stand up comedian, but has also been hosting TV events before – like Melodifestivalen in 2009. Now she will be hosting the three shows of the Eurovision Song Contest, which will be held in Malmö in May this year.
At the press conference today Petra revealed that she is quite a Eurovision fan herself. Her three favourite Eurovision entries was mentioned to be: J'aime La Vie by Sandra Kim (Belgium 1986), Fly On The Wings Of Love by Olsen Brothers (Denmark 2000) and Si Tu Aimes Ma Musique by Stella (Belgium 1986). She sang a bit from each of those three songs at the press conference.
Language skills is needed for a Eurovision Song Contest host and Petra Mede said that she is fluent in French, but will have to think and dream in English from now and up until May in order to improve her English skills. When asked a question in English at the press conference she managed fine, so she is able to speak English – just not used to it.  
The two semi-finals of the Eurovision Song Contest takes place on the 14th and 16th of May with the final being two on Saturday the 18th.
You might also want to read: