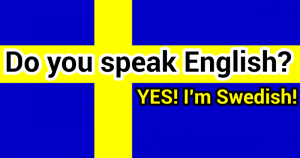 Should anyone be in doubt about the level of English in next year's host country then a quick look at the latest edition of the English Proficiency Index will settle that matter. Sweden tops the list followed closely by neighbouring country Denmark. 
Where it last year was a matter of concern to some how the level of English was among the average person on the streets in Eurovision host country Azerbaijan, then next year things will be different as the show moves to Sweden.
The ones who will be there to cover the Eurovision Song Contest intensely might not care much as long as they can get to the press centre and the arena every morning from their hotel and back again in the evening, but things are different for the many fans, who also come. They like to take the opportunity to explore the city, the country and to talk to the locals. That group of people will be pleased to know that it will be harder to find a Swede who doesn't speak good English than one who does.
At the newly published 2012 edition of the English Proficiency Index places Sweden at the number one country of English level in a non English language country. As the Eurovision Song Contest will be held in Malmö, just 15 minutes drive from the Danish capital Copenhagen it is worth paying attention to that the situation is the same there as Denmark comes in second on the list.
Top 10 EF EPI Ranking: (Less than 48.50 is considered very low, 48.50 – 53.50 low, 53.50 – 57.50 moderate, 57.50- 62.50 high and finally above 62.50 very high).
Sweden 68.91
Denmark 67.96
The Netherlands 66.32
Finland 64.37
Norway 63.22
Belgium 62.46
Austria 62.14
Hungary 60.39
Germany 60.07
Poland 59.08
The stats also show that the level of English is improving in Sweden as well as Denmark. In the last examination three years ago Sweden was placed 4th with a score of 66.26. Denmark gained one placement and an addition of 1.38 to its current final score.
You might also want to read: