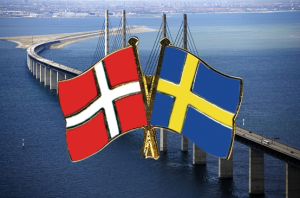 While many Swedes are disappointed with SVT's choice for hosting the 2013 Eurovision Song Contest they can't get their arms down in Copenhagen. They are preparing to use this for best possible branding of the Øresund region and as the first of a lot of international events between Malmö and Copenhagen.  
Many Swedes felt robbed when SVT Sunday announced Malmö to host next year's Eurovision Song Contest, but in Copenhagen it was instead seen as a Christmas present on a grey and rainy Scandinavian summer day. The tourist and branding organisation Wonderful Copenhagen still has their arms well above their head and a big smile on their face. This is the moment they have been waiting for: A big international event that can combine Malmö and Copenhagen into one; the Øresundregion. The preparations have barely begun, but if it is up to them this will just be the first of many. 
Ole Andersen from Wonderful Copenhagen says: "It is a hugh asset for Copenhagen that Malmö has such a nice arena, which will stand next to our own multi-arena, which will be ready in 2015. We know that large events often require that several countries go together like we have just seen it with the Euro 2012. That gives the Øresundregion the opportunity to bid on big exiting events together".
About what the 2013 Eurovision Song Contest in Malmö specifically means for Copenhagen he continues: "This is a big victory for Malmö, Skåne and the entire Øresundregion. We know from experience that large arrangements in Malmö reflect well on the whole area". 
The train between Copenhagen and Malmö runs every 10th minute in rush hour, every 20th on normal schedule and every hour in the night. From Copenhagen Airport it takes 10 minutes to get to Hyllie station in Malmö, which is right next to the arena, while it takes 30 minutes from Copenhagen downtown.