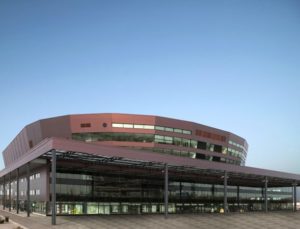 Today it was announced by the Swedish broadcaster SVT that the Eurovision Song Contest 2013 will be held in Malmö. It is the second time after 1992 that Malmö will be staging the Eurovision Song Contest. Just until the end it was a close race between Malmö and Stockholm.
Today the Swedish broadcaster SVT finally announced which city will host the Eurovision Song Contest 2013. It is Malmö! That might be a surprise to lots of people as Stockholm was the big favourite to host the contest in their new built Friends Arena. SVT says that the decision was open until the very last minute. Beside Malmö Sweden's capital city Stockholm applied for hosting the contest. Martin Österdahl who is the Executive Producer of the 2013 Eurovision Song Contest points out that it was not really an easy decision. He says: "We chose Malmö because there is a very good infrastructure and we have good experience of holding Melodifestivalen (the Swedish national selection) and the Eurovision Song Contest there." Furthermore he explains: "The choice of Malmö is based on an overall assessment of the environment in which we think is best for the format of the Eurovision Song Contest, both in terms of TV shows and on the preparations."
Jon Ola Sand who is the Executive Supervisor on behalf of the EBU says that they are pleased to have the host city known at this early stage. The contest will be held at Malmö Arena. It is a fairly new arena which was inaugurated in 2008. It offers a capacity of up to 15,000 visitors for concerts although it is likely that for the Eurovision Song Contest the capacity might be lower.
It is the second time that Malmö will host a Eurovision Song Contest. The first time was in 1992 after Carola had won the Eurovision Song Contest in 1991 with Fångad av en stormvind.
Malmö is Sweden's third largest city with a population of 664,000 people. It has an own international airport which is located about 20km east of the city. The nearest and biggest airport is Kastrup Airport in Copenhagen. Malmö and Copenhagen are connected via the Öresund Bridge which is the longest combined road and rail bridge in Europe. The train connection between both cities takes no longer than 10 minutes.