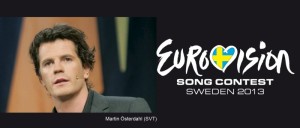 A couple of days have now passed since SVT announced Malmö as the host city of the Eurovision Song Contest 2013 – a decision that surprised many and left behind questions to why Malmö was chosen over Stockholm and the new Friends Arena. The executive producer of next years contest, Martin Österdahl, clears things up by giving answers to these question.
As Gothenburg pulled out of the bidding as the host city of the contest earlier this summer the two remaining cites were Stockholm and Malmö. And on the 8th of July the announcement came that Malmö would be the host. A decision that caused some positive but also a lot of negative reactions in Sweden.
The executive producer Martin Österdahl explains the choice: "Malmö presented us with the best solution from which we can create a great party and give the best conditions for the TV-shows. We will do everything we can to top the expectations from those who
have been negetive to the choice of Malmö. With this choice we will be
able to create an experience far beyond the usual experience and take
Eurovision Song Contest to the next level".
He also mentions three important factors behind the decision: The infrastructure, the closeness to Europe and the good experiences from Malmö hosting Melodifestivalen and the Eurovision Song Contest in the past.
Malmö Arena has a capacity for up to 15 000 visitors for concerts but it's very likely that the number of visitors allowed for the Eurovision shows will be lowered by SVT which means that we will have the lowest number of people in the audience since 2007 in Helsinki. Martin mentions that Malmö Arena is perfectly suitable for this kind of production and that bigger arenas haven't made the whole experince of the show better and takes Copenhagens Parken Arena in 2001 as an example.
Fans planning to experience the Eurovision shows have been worried about tickets and hotel rooms but Martin assures that the number of tickets will be at least as many as in Helsinki 2007 and getting a hotel room won't be a problem.
Martin also denies that the World Chamionships in Ice Hockey, held in Stockholm at the same time as the Eurovision, was a factor to why Malmö was chosen over Stockholm. "We believe in a more intense experience of the event with Malmö compared to Stockholm".