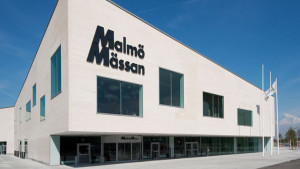 The executive producer Martin Österdahl revealed in an article at SVT.se that there are plans to give the Eurovision fans a memorable experience by letting them be closer to the stage, closer to the artists and maybe also play a role in the tv-show. It was also confirmed that the press centre will be held in the newly built exhitibion hall Malmömässan.
"The fans belongs to one of the Eurovision events most important groups". These words comes from Martin Österdahl, the executive producer of Eurovision Song contest. One of the core values for the working team of SVT is to create "passion that lasts". "The fans are culture bearers and important when it comes to moving our version of moving the Eurovision forward", says Martin.
It's important to have a dialogue with the fans about tickets and about accomodation, Martin continues. They also play an important role in the festivities in town but possibly also in connection to the welcome party.
The central role however is to be a part of the tv-show. The fans own the arena and should be closer to the stage and to the performers. We are also looking on a way to make the fans more involved in the scenography than before, Martin explains. With their flags they works as a living extension of our scenography but maybe we can also find other solutions.
The press centre is to be held in the newly built exhibition hall called Malmömässan, located just next to Malmö Arena. There will be a sheltered passage to the Arena. The closeness and logistics will be better than anything I have experienced during my seven Eurovision-visits, says Martin. It's a huge hall with restaurants, decent rooms, walls and chairs. No tents.
The working team is also looking into digital solutions when it comes to deliver journalists and delegates with information about rehearsal times, meal times, transportation and more. We want the journalists to feel seen and know that we are prepared for what is coming, Martin explains. There should be an intelligent, warm hand that leads them through the whole event.
You might also want to read:
SVT reveals first ideas of ESC 2013 – Only one host during the show
SVT: "Malmö arena perfect for hosting the Eurovision Song Contest"
Stockholm crying, Copenhagen cheering over Malmö announcement