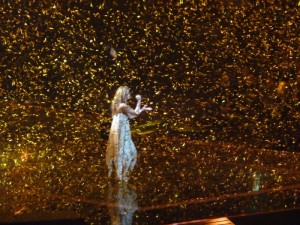 Minutes ago Denmark picked its participant for this year's Eurovision Song Contest. In a national final of high level it was difficult for the jury and the TV viewers to decide, but at the end Emmelie de Forest was awarded the winner of Dansk Melodi Grand Prix. 
It is has become quite a Melodi Grand Prix tradition in Denmark that the shows are fully packed with well known songwriters, a few known singers, some hopefull beginners hoping to kickstart their career and yet again some participants known from various talentshows on TV. This year was no exception as that was precious the line-up we saw tonight.
Singers with previous Dansk Melodi Grand/Eurovision Song Contest experience: Brinck and Simone
Songwriters with previous Dansk Melodi Grand/Eurovision Song Contest experience: Pernille Georgi, Thomas & Jeppe Reil, Brinck, Lars Halvor Jensen, Martin Larsson, Rune Braager, Thomas G:son, Peter Broström, Lise Cabble, Mads Haugaard, Brian Risberg Clausen (Bryan Rice), Peter Bjørnskov and Lene Dissing. 
The songs: (You can read more about the participants in our Get To Know article)
1. Frederikke Vedel – Jeg Har Hele Tiden Vidst Det (written by: Pernille Georgi, Thomas Reil and Jeppe Reil)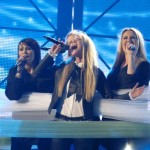 We kick off with a quite straight forward pop song sung in Danish. Frederikke is first alone with a male-female couple dancing, looking in love. Four male dancers comes on stage with the task to create a square of white ribbons. Frederikke and the dancing couple is inside the ring. It is done well, but also seen before at the Eurovision Song Contest. At the end of the song three female backing singers join them on stage.  
2. Brinck – Human (written by Niels Brinck)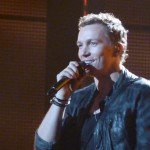 The 2009 Eurovision Song Contest participant Brinck has this time created a singer-songwriter song, builds up nicely. In this line up it stands out from the many up-tempo song. On stage Brinck is joined by two male backing singers and a drummer with a full drumkit. Brinck walks a bit on a threadmill to create the feeling of just walking forever – and that large the stage isn't. He is a solid performer who comes with a strong song, but maybe there is too much going on in the stage performance for this type of song.
3. Kate Hall – I'm Not Alone (written by: Lars Halvor Jensen, Martin Larsson, Michelle Bell, Oscar Holter, Jakke Erixson and Simon Hermansen)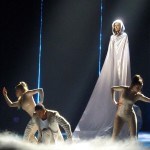 We continue with another up-tempo song by German based Kate Hall. She stands on a podium with three dancers laying down in front of it, two female and a male. Kate is wearing a long raincoat styled jacket, which reveals a red dress under it as she takes it off. She walks around on stage with her dancers dancing around on a cloud of dry ice.
4. Louise Dubiel – Rejs Dig Op – Wildcard (written by: Casper Lindstad, Rune Braager and Louise Dubiel)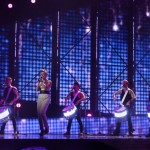 Next is the second and last song in Danish in this national final. It is a pretty simple pop song, which some might find a bit old fashion. Louise sings it well and is joined on stage by four male backing singers, who ends up playing drums – and Louise engages herself into the relationship with the drummers.
5. Daze – We Own The Universe (written by Thomas G:son and Peter Boström)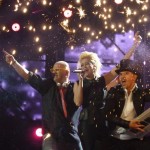 The songwriters behind last year's Eurovision winner have this time created a true eurodance song for the Danish final. Added some Scandinavian schlager this song is extremely catchy and easy to sing a long to. Basically it is the standard receipe for a Nordic entry. It takes some time before something really happens on stage. The keytar player moves around, but the female lead singer isn't moving that much. The synterzhiser player plays with the light using mirrors on his hands. Near the end of the performance the keytar turns out to include pyrotechnics.  
6. Simone Egeriis – Stay Awake (written by: Lars Halvor Jensen and Carsten Lindberg)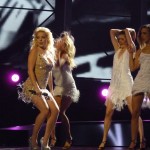 Denmark's adorable child star have grown up to be a very sexy young woman, although many will still argue that she is too sweet and too perfect. Usually she sings ballads, but this time we get to hear her in a more uptempo pop song. She stands out alone in a short sparkling dress, but is joined by three female dancers. They dance in a style more seen in Greek or Cypriot entries rather than in a Danish final. 
7. Jack Rowan feat. Sam Gray – Invincible – Wildcard (written by: Achmad Darwich, Jack Rowan and Sam Gray)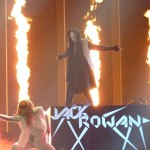 The next song is like Brinck's one that stands out. The house inspired song added a bit of pop chorus is not what we usually see in a Danish final, but here it works surprisingly well so absolutely no need to underestimate that the Danes might just surprise you with chosing this one. in the beginning Jack Rowan walks around Sam Gray while there are two dancers inside and around his mixing pult. Later Rowan himself gets to the pult, put on a headset acting like any DJ, but at the end he stands up on the polt and controls the situation while flames of fire is thrown around.
8. Emmelie de Forest – Only Teardrops (written by: Lise Cabble, Julia Fabrin Jakobsen and Thomas Stengaard)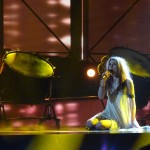 Next on stage is a royalty. Emmelie is being introduced to the story of how her great great grandmother was Queen Victoria of Great Britain. A fascinating story, which for sure will give her extra attention, but the song itself also helps making a memorable impression. First we see a fluet player who then changes to being a drummer. Emmelie is sitting barefeetet at the floor with two more drummers and three backing singers joining her. The drummers march around on the stage with Emmelie standing up making mythical movements. A song that quickly turns into being one of the favourites for tonight. 
9. Albin – Beautiful To Me (written by: Brian Risberg Clausen (aka Bryan Rice) and Mads Haugaard)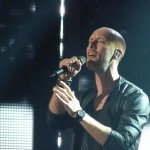 Songwriter Bryan Rice have here given us a song pretty much matching most of his own songs. It is a pop song of the kind that everyone likes and it is hard to have anything against it – but the risk with these songs are that they often don't stand out. Swedish born singer Albin has four backing singers with him on stage. A big picture in black and white of a female walking is seen in the background and a female barefeetet dancers joins the stage as well. They play a game catch and push, which ends up with him being left alone. 
10. Mohamed Ali – Unbreakable (written by: Morten Friis, Michael Parsberg, Peter Bjørnskov and Lene Dissing)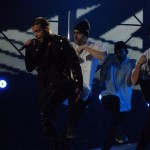 X-factor star Mohamed Ali has gotten a few years older since the Danes first got to know him and now he is a young man, who might just appeal to the teenage girls with this pop song. He starts out alone on stage, but is later joined by four male dancers and together with Mohamed they all dance with the focus being on him. At the end of the song pyrotechnics are used. This song will for sure start the debate about whether or not he reminds most of Tooji or Eric Saade, but lets just conclude that this is the Danish Mohamed Ali. 
The show:
Girlpower was DR's reason behind the three hosts: Lise Rønne (host in 2011), Louise Wolff (host in 2012) and Sofie Lassen-Kahlke (host of DR's junior show in 2012). The choice of interval act could very well then be described as Eurovision power as we saw no less than three Eurovision winning acts on stage: Brotherhood of Man (United Kingdom 1976), Herreys (Sweden 1984) and Johnny Logan (Ireland 1980 and 1987 as singer and 1992 as songwriter). Another Eurovision participant went on stage as well; Soluna Samay who represented Denmark last year with the song Should've Known Better. This time she sang her new single Humble. Afterwards she was interviewed about how her career has been since since she won last year.
All the participants from next week's Danish junior final; MGP also went on stage singing a theme song for their show. This way of introducing those junior finalists during the Dansk Melodi Grand Prix have become quite a tradition here in Denmark.
During the show clips was shown from the hosts who had gone to Ireland, United Kingdom and Sweden in trying to find out what Denmark should do to win the Eurovision Song Contest again.
Live lnterviews with Kirsten & Søren (aka Hoteyes), Dario Campeotto, Keld Heick, Anne Herdorff, Christian Have (from Mabel), Bjørn Tidemann was made during the show as those former Danish participants was among the audience. They were all being asked what they could have done differently back then, which could have done that they had won. 
The voting:
After all 10 songs had been performed first round of voting started. A 50/50 combination of televoting and jury picked three songs to continue to next round, the so-called superfinal. The jury consisted of well known singer through decades Lis Sørensen, remixer and producer Kato, established musical singer Maria Lucia, who won the talent show Popstars in 2003, international producer and former X-factor judge Cutfather and Jørgen De Mylius, host of the Danish final 11 times and commentator for the Eurovision Song Contest 24 times.
The three qualifiers to second round are:
Simone – Stay Awake
Emmelie de Forest – Only Teardrops
Mohamed Ali – Unbreakable
After another performance from the three lucky ones it was time to find out just who of them will be the winner and therefore representing Denmark at the Eurovision Song Contest in neighbour country Sweden in May. For the artists living in Copenhagen this will just be a 15 minutes train ride crossing the bridge between the Danish capital and Malmö.
Points from the jury:
Emmelie: 11
Mohamed Ali: 11
Simone: 8
Points from the TV viewers:
Emmelie: 15
Mohamed Ali: 8
Simone: 7
And the winner is… Emmelie de Forest
Denmark at the Eurovision Song Contest: 
In Denmark we have one of the broadcasters who takes the Eurovision Song Contest most serious. In the past few years DR have not been hiding its goal to win the contest again soon. They won in 1963 and 2000 – and have been qualified for the finals every year since 2008. In 2010 they came 4th with Chanée and N'evergreen's In A Moment Like This and the year after A Friend In London secured the country another top position as they ended 5th with New Tomorrow.