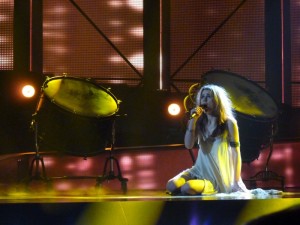 EuroVisionary caught up with Emmelie de Forest shortly after her victory in last night's Danish final. The TV viewers had just awarded her and her song Only Teardrops with the honour of representing Denmark at this year's Eurovision Song Contest in May.
When asked how she felt after winning the Danish final Emmelie de Forest stated that it felt like an "out of body experience" and that it was the perfect birthday present for a girl soon to turn 20. She also told us that she would however not let emotions overwhelm her into crying on stage.
Even though Emmelie total believed in the song from day one she was introduced to it, a demo was recorded back in august 2012, she was so surprised when called back on the stage to be among the three acts that went to the superfinal, that she in confusion took the wrong ramp back to the stage.
Emmelie is a big fan of British singer Kate Bush and she believed that this song could easy have been one of Bush's songs. She told us that she fell in love the song and its strong lyrics about the newer ending question of peace and war and human relations.
About her performance Emmelie told os that she was guided by inspiration and not by a well planned choreography, when she performed Only Teardrops, but even through she has a natural talent for these things, she don't think that she is going to change much in the performance for Malmö, where she will also be barefooted because that is just her style.
She continued by telling about her family that she comes from a very art loving family. Singing, painting, drawing etc. comes natural and that she herself loves to do drawings as well as singing.
As introduction to the song the TV viewers were told the story about her royal family background, something Emmelie has not been open about before. She is great granddaughter of British Queen Victoria, but only her family and close friends knew about it. When asked how that will change now that the "secret" is out she answered that she had no idea. Time will tell.
EuroVisionary also talked to Emmelie already at the welcome party for the Danish final, held Thursday evening. That interview you can see below – in 3D. We recommend watching it in 3D, which you can get more information about on our 3D page where you can also order glasses, but should you want to, this feature can be turned off in the player for regular 2D watching.