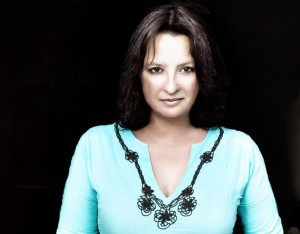 It has been a long time since Patricia Kraus represented Spain at the Eurovision Song Contest in 1987 with No Estás Solo but she is still a renowned artist on the national music scene. She has just released her latest album, Divazz, with which she completes the trilogy that began four years ago.
This trilogy began back in 2009 with the first album named Vintage Fun Club which allowed us to discover a bit more of Patricia Kraus as a powerful vocalist but also as a songwriter. With that album, her goal was to nicely mix some of her own songs with a new version of some fresh and diverse well known greatest hits of some of her favourite musicians and performers whom she has always admired such as Quincy Jones, Nina Simone or Ray Charles. After the success of this project, Patricia started working on the next album which was released in 2011 under the name of Retrocollection.
After a long and enjoyable experimental period where she has collaborated with different artists, she has decided to record a new album based on the music of African-American roots, jazz, blues and soul, which are some of the musical styles that she used to sing at the beginning of her musical career.
Divazz has been recorded almost entirely live at the Fonoelástica studios and Sónica (the latter, her own recording studio) where Patricia has been accompanied by a group of talented musicians. The album contains four different music styles and for this work she has had the invaluable participation of two of the best instrumentalists, Jorge Pardo and Ara Milikian.
Patricia brings a unique and powerful version of these songs that she has always loved and wanted to express with her own style but there are also three tracks which have been written by Patricia herself. They are ¿Qué Va A Ser De Mí?, Alma and No Me Arrepiento.
Divazz is probably the most jazzy album of the trilogy and listening to it, you realize why she is considered one of the best Spanish singers in this musical genre. Her great voice expresses so much emotion that you can feel the love she has for what she does. No doubt that she sings with real passion and she demonstrates that she has enough talent to sing so many different genres.
The track list is as follows:
01. No Woman No Cry
02. Moondance
03. Qué Va A Ser De Mí
04. Love Me Or Leave Me
05. Natural Woman
06. Little Girl Blue
07. Summertime
08. For Once In My Life
09. Alma
10. Tell Mama
11. No Me Arrepiento
In the videos below you can watch the official videoclip of Qué Va A Ser De Mí and also listen to Patricia Kraus singing Summertime in a live concert. If you want to enjoy Divazz and its wonderful songs you will find a link to purchase the album below.
You might also like to read: