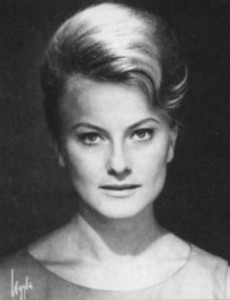 Monica Zetterlund was so much more than her Eurovision entry En Gång i Stockholm back in 1963. The jazz singer was something of a Swedish icon before her untimely death in 2005. This month marks what would have been her 73rd birthday and her life is celebrated both on the silver screen and in the form of a new CD.
The turbulent life both on stage and off of jazz sensation Monica Zetterlund has been portrayed in the Swedish film entitled Monica Z, which was given a nationwide release last week. The plot of the film is said to take place in the early sixties with Edda Magnason playing Zetterlund. The film recived it's premiere at the Way Out West film festival in Gothenburg in August. Fans of the singer may be thrilled at seeing their heroine on the silver screen, however the film has also been criticised by some for its apparent factual errors. Although her appearance at the 1963 Eurovision in London is included in the film, har participation in the 1962 edition of Melodifestivalen is omitted in its entirety. Director Per Fly and scriptwriter Peter Birro have however dismissed the criticism, claiming that they had to rewrite certain events in her life in order to make the final production as effective as possible. Apart from the criticism, the film has attracted overall positive reviews.
At the same time, a well known Melodifestivalen participant has also chosen to pay tribute to the Zetterlund, with the release of a brand new CD. Jenny Silver, who many remember from her dancefloor ABBA pastiche Something in Your Eyes. She was also one third of the Swedish House Wives, who failed to make the final of this year's Melodifestivalen with On Top Of The World. Silver has recorded an album which according to her new website has been a dream of hers for some time. Entitled simply Jenny Silver – Z, the album is filled with her enterpretations of just some of Ms Zetterlund's extensive back catalogue. The brand new album is due for release on Wednesday, the 18th of September – a rather befitting tribute, seeing as Monica Zetterlund would have celebrated her birthday on the 20th of September, had she still been with us.
You may also like to read:
Links