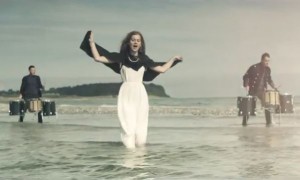 Today the official video to Emmelie de Forest's second single Hunter & Prey was released. Emmelie has written the song together with Lise Cabble and Jakob Glæsner, the latter being the man who two days ago was confirmed to be her boyfriend. 
The debut album from Emmelie de Forest was released in relation to the 2013 Eurovision Song Contest, where she brought Denmark it's third victory with the song Only Teardrops. A few months later the second single, titled Hunter & Prey, was released and today followed the video to it. 
Emmelie says about Hunter & Prey:  
"The song is actually inspired by the film Roman Holiday, which had Audrey Hepnburn in the leading role and comes from the feeling of sudden freedom and the oppertunity to do what one always dreamt about. In the middle of the songwriting proces the song took a turn towards the more dark and mythical, inspired from Twilight and the wild nature in Wurthering Heights, and the confusing and intense feelings between the leading roles Heathcliff and Cathrine. So it is a mix of films, novels and dreams, which has inspired me. When I come across a good story, I have a tendency to use elements from it and mix it with other stories, which then becomes a long film in my head". 

Hunter & Prey is written by Emmelie herself together with Lise Cabble and Jakob Glæsner. Lise was also one of the songwriters behind Only Teardrops as well as the Danish Eurovision entries from 1995 and 2011. Jakob was a member of the band Johnny Deluxe, which participated in the Danish national final in 2009, and just a few days ago Emmelie and him confirmed that they are in a romantic relationship to each other.
The video is recorded in the nature at Sejerø, a small island outside the west coast of Zealand and was directed by Nicolas Tobias Følsgaard. Included in the video are the two drummers, who backed Emmelie up on stage in the Danish final as well as in Malmö, Jacob Baagøe and Morten Specht from Copenhagen Drummers.
Below you can see the video to Hunter & Prey just as you'll also find a link to purchase the debut album from Emmelie de Forest.
You might also want to read: