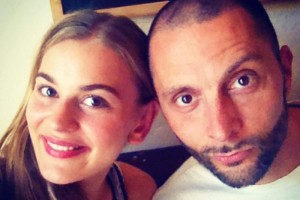 Charming Emmelie de Forest, who won this year's Eurovision Song Contest, crushed some hearts when she last night revealed her boyfriend to the press. The lucky man is 22 years older than her, father to two and also former participant in the Danish national final. 
She charmed everyone in Denmark and a few months later she won a lot of hearts around Europe when she barefooted and completely natural in her apperance sang Only Teardrops in this year's Eurovision Song Contest. Emmelie de Forest was crowned the winner of the contest, but what few knew was that her own heart was tuned into another musician and songwriter, 42 year old Jakob Glæsner.
Jakob Glæsner was a part of the succesfull Danish poprock band Johnny Deluxe, which participated in the Danish final, Dansk Melodi Grand Prix in 2009, and split up last year.
To newspaper BT Emmelie revealed Saturday evening that Jakob and her have been together for six months. She says that they delibretly kept their relationship out of the media in order to have time to figure out if this was the right thing. After six months where Emmelie also have gotton to know Jakob's two children, at 7 and 10 years old, the couple found it right not to hide their love anymore.
About the 22 year old age difference between them, Emmelie says: "We both fall in love with people and don't think about numbers. My father was 17 years older than my mother so for me there is nothing unnatural in the fact that we aren't the same age. People who have prejudices just don't know better". 
Below you can see our 3D video of Emmelie De Forest's Eurovision Song Contest winner Only Teardrops. We recommend watching it with suitable 3D equipment, but should you not be able to do so, it can easily be turned off in the player for regular 2D viewing. 
You might also want to read: