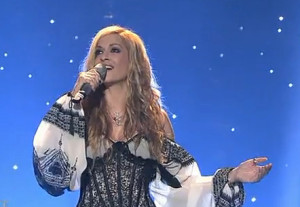 Anna Vissi is a newly grandmother. Her only child, Sofia, gave birth to a healthy baby boy in New York in the early afternoon (local time) of Thursday 12th September. This is the three-time Eurovision Song Contest entrant's first grandchild.
Few, if any, have reached the heights of success that Anna Vissi has
enjoyed in Greece and Cyprus. In the
last four decades, the Cypriot-born artist has been a chart-topper, celebrated
performer and trend setter. Her popularity is reflected by the fact
that she was chosen as a Eurovision entrant on three different occasions: once
for her native Cyprus (in
1982) and twice for Greece
(in 1980 and, tellingly, in 2006 when Greece was hosting the event). 
Anna
Vissi's grandson is expected to be named Nikos, after Sofia's father, singer/songwriter Nikos Karvelas.
Even though Anna Vissi and Nikos Karvelas divorced a long time ago, they have
remained lifelong friends and regular collaborators. Karvelas is a successful artist
himself; his compositions include Anna's 2006 Eurovision entry, Everything. As
one would expect, both artists are reported to be over the moon with the
arrival of their grandchild. Anna revealed that she was at her daughter's side for the whole duration of the baby's delivery: 'It was a thrilling experience, unique happiness. The first cry of the child of your child! I want another one now!'.
Vissi had
been spending a lot of time with her daughter in the months leading to the
baby boy's birth. Instagram and Twitter posts bore witness to mother and
daughter spending time together in the Greek islands as well as hosting a baby
shower party in New York in July. Known for her youthful attitude, Vissi was recently asked how she
would feel about being called a grandmother: 'I think that children decide on
their own according to how they perceive us. I would like it if he just called
me Anna. However, without question, if he called me grandmother, I would still
be in tears of joy and emotion', the singer replied. 
2013 is
shaping up as a bit of a landmark year for Anna Vissi. After a long anticipated
reprisal of the lead role in Karvelas' 1991 celebrated rock opera Daimones in
Spring, the singer celebrated the fortieth anniversary of her career with a
sold out mini-tour in Cyprus
in July. There are even rumours of Vissi joining upcoming talent show The Voice Greece as a judge. However, the arrival of her grandson must be a precious moment that truly stands out for Anna this year.
Watch Anna's transformation over the years in the following videos of her Eurovision performances as well as a her recent mini-tour in Cyprus.
You may also want to read:
Greek court judgement against credited composer of 'My Number One'
Helena Paparizou to perform in Thessaloniki's MAD North Stage Festival
Athena's Gokhan joins Hadise in The Voice of Turkey