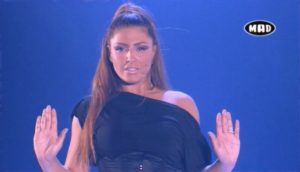 2005 Eurovision winner Helena Paparizou and 1998 Cypriot participant Mihalis Hatzigiannis are some of the artists that will appear in the MAD North Stage Festival. The event is organized by Greek music channel MAD TV and will be part of the 78th Thessaloniki International Festival.
The Thessaloniki International Festival, TIF, is organized by TIF-Helexpo S.A., the Greek National Exhibition Agency. Even though TIF is predominantly a technology and commerce exhibition, it has strong links to music events.
Since 1962, TIF and its exhibition had been host to what was the most popular Greek song contest for decades. Modelled on the San Remo festival, the 'Song Festival of Thessaloniki' (as it became commonly known) provided many popular hits and was often used by established and newcomer artists alike for a career boost. Nana Mouskouri (Luxembourg 1963), Yovanna (Switzerland 1965), a young Anna Vissi (Greece 1980 & 2006, Cyprus 1982) and Sophia Vossou (Greece 1991) are some of the festival's past participants who later went on to take part in the Eurovision Song Contest. In 1991, Giorgos Alkaios (Greece 2010) beat then newcomer Sakis Rouvas (Greece 2004 and 2009) in the Best Vocalist category by one point.
After years of declining popularity and unsuccessful attempts to revamp the event, the song festival in Greece's second largest city pulled down its curtain for the last time in 2009. However, it seems that this year popular music will be back at the Thessaloniki International Festival thanks to MAD TV, the commercial channel that was also responsible for the organization of the 2013 Eurovision Greek National Final. Its MAD North Stage Festival is intended to showcase a wide variety of Greek music and has managed to attract a strong line-up of artists.
Notably, the music event will open with a Helena Paparizou concert on Saturday 7th September and close with Mihalis Hatzigiannis, one of the most popular and commercially successful singers in Greece and Cyprus, on Sunday 15th September. There is no extra charge for the concerts. Attendees will only have to purchase a day ticket for the TIF exhibition. It was reported that early ticket sales are going strong.
For a full list of the MAD North Stage Festival line-up as well as live podcasts, visit the link below (the web page is partly in Greek).
In the following video, you can watch Helena Paparizou performing live at the 2013 Mad Video Music Awards last June. Save My Desire is a mash up of one of Helena's latest singles, Save Me, and Gala's 1996 single Freed from Desire.
You might want to read: 
Links