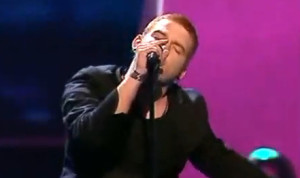 Things have been rather silent for Athena since their participation at the Eurovision Song Contest. Lead singer Gökhan however now hits the spotlight again as he joins Hadise as jury member of The Voice of Turkey in the new season to be premiered in two weeks.
Hadise, who is born in Belgium, but represented Turkey at the 2009 Eurovision Song Contest, joined The Voice of Turkey two years ago and now another former Eurovision participant will take the same route. After judge Mustafa Sandal, who happens to be married to Emina Jahovic (Finalist from the 2008 Serbian national selection) has withdrawn from the jury seat, it was wondered who might be the replacement.
And with the new season coming on soon it was then releaved that it will be no other than Gökhan, leadsinger of the band Athena, which represented Turkey at the 2004 Eurovision Song Contest. After the contest Athena released an album and a couple of promotional videos, but without significant succes. 
The new season of The voice of Turkey will start on September 16th with the production of Turkish tv channel, Star. Both Hadise and Athena accived a 4th place at the Eurovision Song Contest with their entries Düm Tek Tek and For Real. It will therefore be interesting to see who will do best at The Voice where the judges are competing just as much against each other as the participants are fighting to get their breakthrough. 
Below you can watch the trailer for the new series or you can refresh the two Eurovision Song Contest entries. 
You might also want to read: