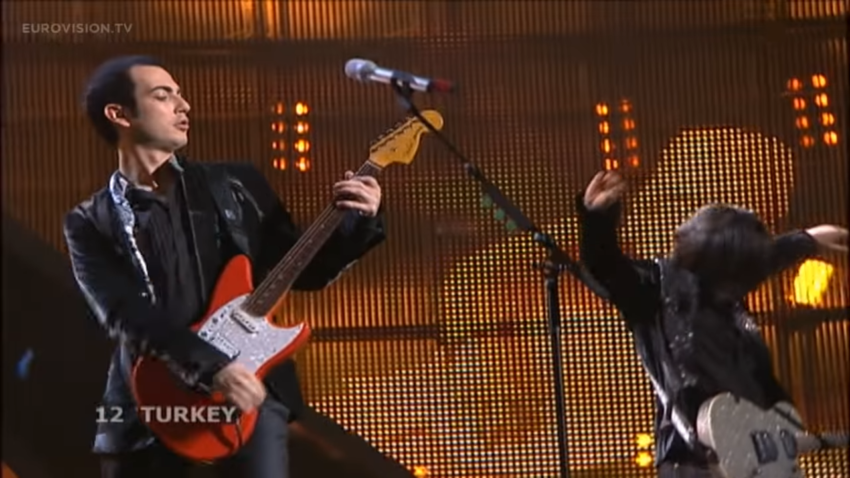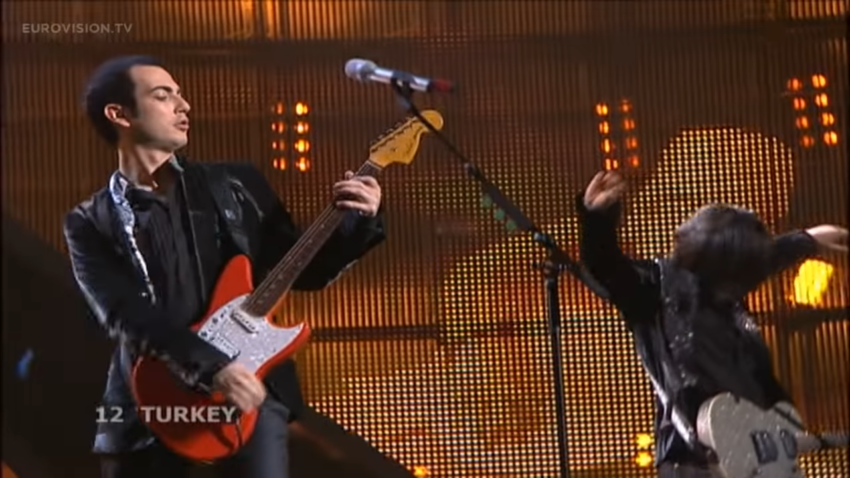 Turkey started participating in the Eurovision Song Contest in 1975 with very high hopes. Until the early 2000s, the country faced disappointments as per the results. After their victory in 2003, a door of success opened for the country. One of the most appreciated and successful entries was their 2008 rock entry 'Deli' by Mor ve Ötesi.
In 2008, Turkish broadcaster TRT decided to make an internal selection and had talks with five Turkish artists including Turkish mega star Tarkan for the Eurovision Song Contest in Belgrade, Serbia. Eventually, TRT made a deal with the famous rock band Mor ve Ötesi. The group offered three songs and an assigned group of experts including the group members decided on the uptempo rock song Deli (Crazy) on the 21st of January 2008.
After a very busy promotional tour, the band arrived at Belgrade, Serbia on the 10th of May 2008. Mor ve Ötesi first took the stage in the second semi-final 3rd in line. After a remarkable performance of Deli, they received 85 points, placed 7th and flew to the grand final. In the final, the band took the stage 12th in line, received 138 points and placed 7th after the host country.
Deli (Crazy) – opinions from fans
In order to find out what Eurovision fans today think of this Turkish entry from 2008, we asked our Eurovision Fan Panel. It includes team members as well as fans from all over the world.
🇩🇰 Charlotte J. – One of the absolute best entries from Turkey. Together with maNga, this is what I miss from Turkey. I love both. Deli is one of the best rock songs in Eurovision (unfortunately there haven't been that many!) and it's well performed too. Still love to hear it ♥️
🇹🇷 Gunec G. – I have been a great fan of Mor ve Ötesi for years. I am especially very fond of Harun's voice and vocal technique. I also love their political views which is very opposition, like me. As for the song, Deli is of great quality as their other songs. The boys gave a performance that I am still very proud of, both in the semi-final and in the final. Expected it to score higher.
🇦🇺 Vivienne F. – There were a few turkeys in this Eurovision, I had two favourites though, Dustin the turkey from Ireland and of course this fantastic rock band from Turkey. It was a nice change from the traditional type songs they often send (although I love a good Harem song). The singer's voice is fantastic, I love how he sings low and deep in the verse and then goes higher in the chorus. It deserved better than 7th place Imo, unfortunately it was too hard to get past all the girls who were dominating, and Russia of course. Come back Turkey, I miss you 😘
🇧🇷 Amir B. – I like Deli. The Turkish rock sounds excellent. The performance is good, but it's nothing 'wow' for me. I don't have many things to say.
🇳🇴 Steinar M. – It is SO much nicer to write about songs I like in these fan panel reviews. I LOVE this one. There are many good reasons why we all miss Turkey in Eurovision. Their great rock songs are one of my reasons. I actually think this is one of the best performances, I have ever seen in the contest. The vocals are (as far as my untrained ear can hear) 100 % spot on. The band is great to watch. It's so much better to se instruments on stage in Eurovision, than all kind of silly OTT gimmicks, which has nothing to do with music. I think the song itself is awesome. A kind of indie rock, which reminds me a bit of American college rock. Despite being sung in Turkis – a great language for rock, I think, it actually sounds very American. It's powerful, sonorous, professional, catchy and melodious.
🇬🇧 Paul G. – Another brilliant entry from Turkey. Please come back we miss you!
🇨🇿 Josef S. – I am not a big fan of rock songs or Turkish Eurovision entries in general, but I usually pick some songs from each category I really like. I would not say I love Deli or that it belongs to one of my favourite entries, but it's a superb song and really well performed which is always something good.
🇬🇧 Michael O. – For this type of music it's not too bad, much prefer this to maNga two years later. At least this had a good chorus. Despite that it's nowhere near the Turkish delight that was coming next year.
🇷🇸 Milosav T. – This was an atypical representative of Turkey and sort of predecessor to maNga a few years later. Even though this is a good rock song, it's not something that I listen to on a regular basis. I do appreciate singing in one's native language, and that is always a plus in my review. A good effort, but not worthy of Top 10. Hopefully, we will see Turkey in the Eurovision Song Contest again soon!
Enjoy Mor ve Ötesi's performance from the 2008 Eurovision Song Contest in the embedded video. Below the video, you can read more about them.
Mor ve Ötesi – a mini biography
Mor ve Ötesi is a celebrated Turkish rock band formed by Harun Öztekin (vocals & guitar), Alper Tekin (bass guitar), Derin Esmer (vocals and guitar) and Kerem Kabadayı (drums) in Istanbul in 1995. Their first album Şehir (City) was released in 1996.
The band represented Turkey in the Eurovision Song Contest in Belgrade, Serbia in 2008 with their uptempo song Deli (Crazy). Over the years, they have released 16 albums and numerous singles throughout their musical adventure.
At the moment (February 2021), the group consists of Harun Tekin (main vocals, rhythm guitar and keyboard), Kerem Özyeğen (solo guitar, back vocal), Burak Güven (bass guitar, back vocal), and Kerem Kabadayı (drums). In 2020, they released an album of their last concert in Harbiye Açıkhava.