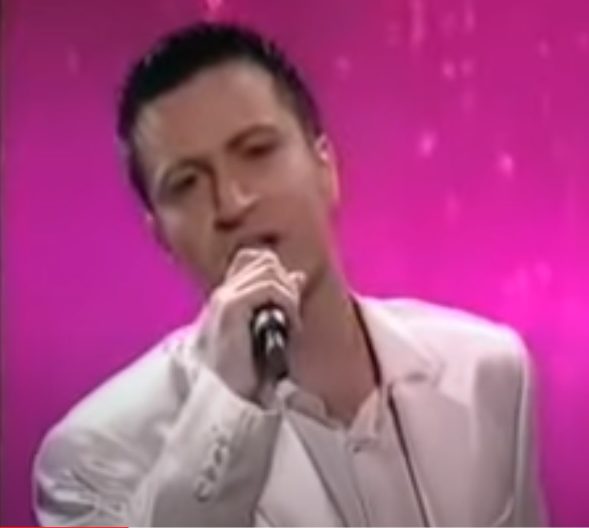 Early 2000s saw a change of bad fortune for Turkey at the Eurovision Song Contest. After a top 10 place in 2000, in 2001, Sedat Yüce achieved the 11th place with his romantic ballad 'Sevgiliye Son', which was one of the good results to date.

The national final of Turkey for the 2001 Eurovision Song Contest took place on the 23rd February. The show was hosted by Ömer Önder and Meltem Ersan. Among 10 contestants, Sedat Yüce was crowned as the winner by the expert jury with his slow tempo modern romantic ballad Sevgiliye Son. 
The Eurovision Song Contest took place in Copenhagen Denmark on the 12th of May 2001. Sedat took the stage 15th in line to sing his song. Turkey received 41 points which placed it 11th.
Sevgiliye Son – opinions from fans
In order to find out what Eurovision fans today think of this Turkish entry from 2001, we asked our Eurovision Fan Panel. It includes team members as well as fans from all over the world.
🇩🇰 Charlotte J. – I quite like this song. It starts out really well almost promising a masterpiece, but unfortunately the chorus can't quite follow it through to something higher than just a nice song. He sings well, and I like the music, which doesn't sound typical Turkish to me. Nice attempt which lacked something to be a real top contender.
🇦🇺 Vivienne F. – I had forgotten this song, but it has a nice intro, nice instruments and music, reminded me of Christmas bells 🔔. He has a lovely voice. I like the verse and the violins, but then didn't really like what it built up to, just liked the first part.
🇹🇷 Gunec G. – Sevgiliye Son did not make me go wow as a song in the first place, but on stage, I loved Sedat's performance of that sweet, innocent, romantic song reminding me of my childhood crushes 🙂 And Sibel, the girl in white who plays the violin, is one of my best friends with whom I spent all my summer holidays in my childhood. Sedat is also a very good musician who is a very good trumpet player.
🇳🇱 Eric O. – This is an unusual song for Turkey, as they used to have songs with traditional musical influences. This is quite a strong ballad with good vocals, a handsome singer and nice staging. Funny enough, I don't recall this song and haven't heard it on ESC Radio either, but hearing it for the first time gives me positive vibes.
🇭🇺 Takko M. – When I think of Turkey in the contest, my mind often comes up with dancing entries such as Düm Tek Tek (Turkey 2009). In 2001, the Turkish entry was not good though. They decided to send a boring ballad which is a genre that is not representative for the culture of the country in my point of view.
🇬🇧 Michael O. – This was a nice melodic ballad from Turkey, which unfortunately has been forgotten about as it was before the Sertab years. Totally pleasant to listen to, just not strong enough to be one of the front-runners.
🇨🇿 Josef S. – This was a pleasant surprise from Turkey. Such a nice ballad, in combination with Turkish language, it is very likeable. I am pretty sure I will add it on my Eurovision playlist. 👍
🇨🇴 🇫🇮 Álvaro S. – I had the feeling that it took forever for this song to start. The words and the way he is performing sounded so slow, and I only felt the emotion after the first minute of the song. So it has a powerful chorus, but the verses feel dull and uninspiring to listen to.
🇬🇧 Kat H. – In a year with an abundance of poor songs, this is one of my least favourites. Personally I don't enjoy the melody or the stage presentation. In another year it could have been a bottom 5 song but in my opinion, 2001 was an exceptionally weak year with one of the weakest winners of the 2000s.
🇧🇷 Amir B. – Sedat brings a beautiful ballad to the stage. Different to most of the Turkish entries, This is one to calm down and relax.
Enjoy Sedat Yüce's performance from the 2001 Eurovision Song Contest in the embedded video. Below the video, you can read more about them.
Sedat Yüce – a mini biography
Sedat Yüce was born in 1976 in İzmir, Turkey. He studied music in Dokuz Eylül University Conservatory. He is a singer, trumpetist, composer, arranger, vocal coach and Radio Dj. He represented Turkey in the Eurovision Song Contest in 2001 with Sevgiliye Son. In total, Sedat took part in the Turkish national final a total of four times.
In 2012, Sadat opened an art school in İzmir which offers education in all types of art such as singing, various kinds of instruments, acting etc. He is currently hosting a weekly radio program every Tuesday. After a few singles, he recently released a Turkish cover version of Rue Des Acacias by Marc Lavoine.
Turkish national final attempts by Sedat Yüce
1996: With the song Vazgeç, he finished third in the national final
1990: With the song Bırak Beni, he finished 4th in the national final
2001: With the song Sevgiliye Son, he won the national final and made it to the Eurovision Song Contest where he placed 11th
2005: With the song Yeniden, he finished last in the national final