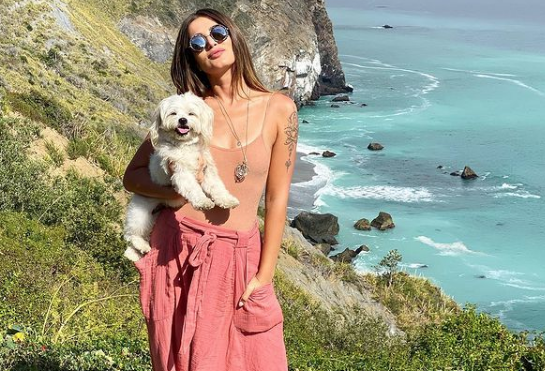 Babies, weddings and cameos in films. These are just some of the things that the 1op 10 of 2016 have been doing during the past 5 years. Has your favourite artist from 2016 still been making music? Let's take a look.
---
10. Laura Tesoro (Belgium)
Tenth place competitor Laura Tesoro has continued to steadily release music over the past five years but has included voice acting onto her list of skills. In the same year when she competed in Stockholm, she voiced the character of Poppy from the DreamWorks' film Trolls. Earlier this year, she released a collaboration with fellow Belgium Eurovision competitor Loïc Nottet. Like many of her Eurovision fellows, Laura has joined her countries version of The Voice as a coach.
9. Donny Montell (Lithuania)
Two time competitor Donny has been working hard to create new music and recently released a Christmas single Štai ir vėl ("Here again") Donny was a judge on The Voice Lithuania from season 2 to 8. In 2017 his single Screw Me Up reached number 2 on the Lithuanian chart. In 2018 a collaboration with SEL, Žiūrėk ką padarei did the same.
8. Michal Szpak (Poland)
Michal's performance didn't go down well with the juries in 2016, but finished in a fantastic third place during the public televote. These scores combined meant that he finished in a respectable eighth place in the grand final. The year after his time at Eurovision, Szpak joined the judging panel of The Voice Poland, becoming the winning judge in his debut season.
During the summer of last year Michal broke the quarantine boredom by impersonating some famous Eurovision faces as well as The Fire Saga's Volcano Man. Did he do a good job? You can decide for yourself by watching the video below.
7. Iveta Mukuchyan (Armenia)
Following her top 10 place in Stockholm, Iveta became a jury member for Armenian selection show Depi Evratesil and was the spokesperson for the Armenian vote later that same year. Iveta returned as a jury member in 2018 but for the Czech and French selection shows.
For her 34th birthday, Iveta hosted an online music event to raise money for Artsakh and to help the soldiers and families of those injured or killed by war. A charity single was also released for the same cause. Iveta has spoken very passionately about this cause, particularly when accepting an award in Dubai which she dedicated to the brave soldiers.
Iveta has also spent some time in the United States, performing a special concert on International Woman's Day.
6. Amir (France)
In 2016 Amir and his song J'ai cherché gave France their best result for 14 years. The following year Amir joined the commentating team for France 2 during the Grand Final in Kyiv and worked with American band OneRepublic on the French remix of their single No Vacancy.
He has continued to keep close ties to Eurovision and has been a jury member of Destination Eurovision to help France select their competitor for the 2018 contest in Lisbon and co-wrote The Best In Me for 2020 competitor Tom Leeb. Unfortunately the contest was cancelled due to the Covid-19 pandemic and the song was never able to compete.
In his personal life Amir is now a father and announced the birth of his son on Instagram with a cute snap.
5. Frans (Sweden)
Since his participation at the 2016 Eurovision Song Contest, Frans has been developing his songwriting skills and trying different music styles. His last album release in the summer of last year was the English language album Present which Frans described as a present to himself and others who want to listen to his music.
4. Poli Genova (Bulgaria)
Fan favourite Poli has continued to make music since she finished in fourth place in Stockholm. In addition, the Bulgarian singer completed two seasons of The Voice Bulgaria as judge and even voiced the character Judy Hopps in the Bulgarian dubb of Zootopia.
Poli is now a mum and enjoys sharing her family snaps on instagram. During Covid quarantine, Poli shared her grandmothers pie recipe to her fans.
3. Sergey Lazarev (Russia)
Despite being the winner of the public televote in 2016, with the votes combined with that of the Jury he slid down into third place. The Russian singer returned to Eurovision in 2019 with a completely different style of song, despite dividing fans, Sergey was able to equal his 2016 result, finishing again in third place.
In his personal life in 2019, Sergey announced that he had welcomed another child into the world, his daughter Anya was born via surrogate like his son Nikita.
He has continued to enjoy musical success in his native Russia and has just begun competing in Dancing With The Stars Russia where he is partnered with Ekaterina Osipova. You can watch his first performance on the show, an Argentine Tango.
2. Dami Im (Australila)
The X Factor Australia winner won the hearts of the international jury receiving the maximum points 5 years ago which brought her to an overall 2nd place. She has continued to make music and set up her own record label 'Dami Army' in 2019 after parting ways with Sony Music Australia. In a break from music, the singer participated in Australia's Dancing
With The Stars finishing in 5th place with her partner Shae Mountain.
Im has maintained close ties with Eurovision, together with Måns Zelmerlow the pair gave a special performance during the interval of last year's Eurovision- Australia Decides selection show.
Despite the pandemic, Dami has still been able to perform and tour, while maintaining social distancing though some of her most recent tour dates have had to be postponed.
1 Jamala (Ukraine)
Following her controversial win in the Eurovision Song Contest Jamala was awarded the People's Artist of Ukraine by then President Petro Poroshenko. She married her husband the following year with the couple welcoming their first child, a son in 2018 with their second born late last year. The Kyrgyzstan born singer has continued to enjoy popularity in Ukraine and released the album Kryla (Wings) in 2018 which featured her single I Believe In U which was performed during the interval of the Eurovision Song Contest a year after her victory when the contest was held in Kyiv.
Most recently, Jamala had a cameo in the Netflix Eurovision Move Fire Saga along with other winners Loreen, Salvador Sobral, Alexander Rybak and Netta.
Like the rest of us, Jamala has been spending a lot of time at home with her family during the Covid-19 pandemic, but she was one of the lucky ones to enjoy a holiday and spent time in Marsa Alam, Egypt with her growing family.