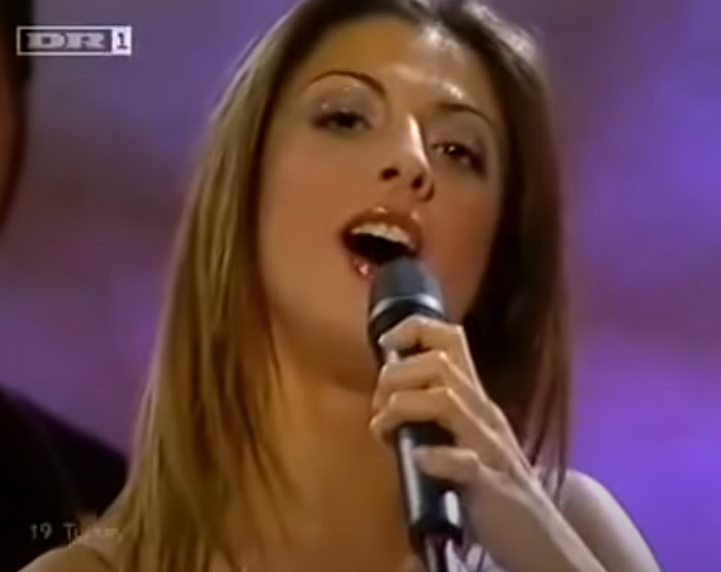 In 2002, just one year before their only victory with Sertab Erener, Turkey sent Buket Bengisu accompanied by Group Safir to the Eurovision Song Contest in Tallinn, Estonia. In this article, we're going to focus on their uptempo romantic song 'Leylaklar Soldu Kalbinde'.

The traditional national final was organised by broadcaster TRT and took place on the 15th of February 2002 at the TRT studios in Ankara. The show was hosted by Ömer Önder and Meltem Ersan featuring five entries. After the five performances, a five-member jury all voted for Leylaklar Soldu Kalbinde performed by Buket Bengisu and Grup Safir. The  song was written and composed by Sami Hodara, Figen Çakmak and Fani Hodara.
In Tallinn, Buket and the team took the stage 19th in line. Buket was wearing a lilac costume and performed with her smiling face accompanied by her teammates Eser Alioglu, Dilek Aba, Gülnur Gökce and Sitare Bilge aka Grup Safir. Eventually, they received 29 points and placed 16th.
Leylaklar Soldu Kalbinde – opinions from fans
In order to find out what Eurovision fans today think of this Turkish entry from 2002, we asked our Eurovision Fan Panel. It includes team members as well as fans from all over the world.
🇨🇿 Josef S. – Oh what a voice Buket has. It reminds me of some Portuguese fado singers. But I like and appreciate using of Turkish language and ethno instruments. Like this, it's very easily recognisable as being from Turkey. And that's good. Maybe not one of my favourite songs but let's say better than average.
🇬🇧 🇬🇷 Melanie G. – I really like this, it has some great qualities the panpipe sound and the authenticates of the song. It's lively and not too in your face. I'm not to over keen on the singing but overall it's OK.
🇷🇸 Milosav T. – OMG, what did I just watch? I can't believe Turkey sent this just a year before the magnificent Sertab. They look like a group of people who just met and decided to go to ESC, with horrible results. The singing, the outfits, the choreography, the dabadabdams… Jemini anyone? Awful, awful, awful!
🇩🇰 Charlotte J. – I had forgotten about this song, and I am glad to be able to say that, I soon will again. I don't want to be too hard, and I can understand what some fans might see in this, but for me, it just doesn't do anything. She comes across as a nice person, and I like that they included a bit of English in the song.
Michael O. – To me this sounds very similar to 2000, with Turkey always sending the same type of song. That was until they came back with a bang the following year and then Turkey became a powerhouse for a while.
🇫🇮 🇨🇴 Alvaro S. – I like the traditional vibes this song gives me. I am not so thrilled by the backing dancers, specially the male dancer. It looks like if he is some random guy they just picked up and was asked to dance with the girls and do not know what he is doing (judging by what he is wearing). So the song is good but the live vocals and the presentation makes it look amateurish.
🇹🇷 Gunec G. – I love the lively and joyful melody and stage presence of this song. The melody gives me positive energy. Although Buket didn't have the opportunity to show her amazing voice with this song, she gave her best and sang the song to its best.
🇳🇱 Eric O. – In 2002, I didn't really follow the Eurovision Song Contest, as my husband & I got married on 17th of May and went on honeymoon to Thailand afterwards, so we actually missed the show. It probably wasn't that interesting for us, as the Netherlands weren't allowed to participate that year due to bad results in 2001. So I think I actually heard this Turkish entry for the first time ever just now, as I don't recall having listened to it before (as it doesn't get played on ESC Radio, I think). But to give my honest opinion about it: it's not my cup of tea. The song is very traditional Turkish, which is hard to 'take in' for Western-Europeans, so I'm not surprised it only got to 16th place in 2002. Luckily, Turkey did so much better with Sertab's Every Way That I Can a year later…
🇺🇸 🇬🇧 Mhairi O. – This isn't really my style of music, it's not something I would normally listen to. I think the next year was much better for them.
🇸🇪 Jill R. – This song isn't very rememberable but still sounds vaguely familiar. I'm not fond of Buket's voice and unfortunately it is of pitch sometimes. I somewhat like the ethnic sound, otherwise the song doesn't speak to me. But it isn't terrible. Still, it didn't deserve to score more than it did. 16th sounds about right to me.
Enjoy Buket Bengisu and Grup Safir's performance from the 2002 Eurovision Song Contest in the embedded video. Below the video, you can read more about her.
Buket Bengisu – a mini biography
Buket Bengisu was born on the 19th of September 1978 in Istanbul, Turkey to musician parents. Her father was a bassist and her mother was a pianist. She studied chorus singing and musical singing in Istanbul University State Conservatory, thus have two degrees. She played in a number of musicals with the Turkey Children Theatre.
In 2002, Buket represented Turkey at the Eurovision Song Contest accompanied by Grup Safir (Eser Alioglu, Dilek Aba, Gülnur Gökce and Sitare Bilge) with the song Leylaklar Soldu Kalbinde. In 2011, she won the special prize of jury WAFA awards at the Golden Voice Moldova Festival. After that, she has won a couple of more international music awards. She is also known to organise a concert called 'Euorvision From Past to Present' in 2011.
Currently, she is making music with her husband Doğan Kospançanlı. They have been giving online home concerts during the Covid-19 pandemic. She has last released a cover of Sezen Aksu's song 1945.