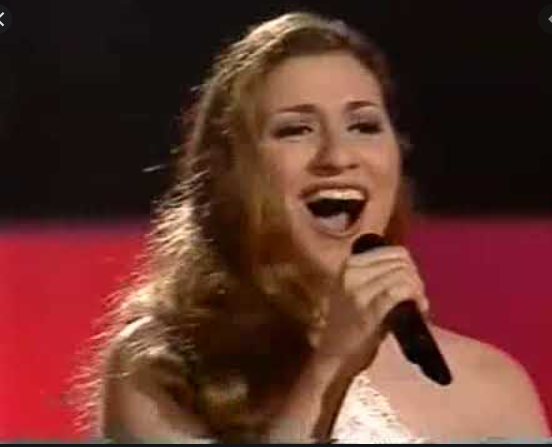 Late 90s and early 2000s became a scene of awakening for Turkey in the Eurovision Song Contest. After their 9th place in 1986 and 3rd place in 1997, their third top 10 came in 2000 with Pınar Ayhan & SOS's mid tempo, danceable yet emotional song 'Yorgunum Anla'.
TRT held a National Final in 2000 for the Eurovision Song Contest on the 18th of February 2000. The final took place at the Arı TV studios and was hosted by Ömer Önder and Yasemin Pamukçu. Among 10 contestants including celebrated Turkish artists Işın Karaca and Mirkelam. Yorgunum Anla (I'm tired) by Pınar Ayhan & SOS was determined the winner by an expert jury and earned the honour to represent Turkey in Eurovision Song Contest 2000 in Stockholm.
In Stockholm, Pınar and the guys from SOS (including her husband Sühan Ayhan) took the stage 22nd in line. After Pınar's elegant and remarkable performance of Yorgunum Anla Turkey received 59 points and placed 10th.
Yorgunum Anla – opinions from fans
In order to find out what Eurovision fans today think of this Turkish entry from 2000, we asked our Eurovision Fan Panel. It includes team members as well as fans from all over the world.
🇩🇰 Charlotte J. – After recently having listened to the Turkish entries in 2008 and 2010, this one falls flat. And it's not just because it's older. It's too Turkish in its sound, and that's what I don't like. The English chorus though is actually quite good, so it's not all bad. This kind of music is just not my taste.
🇪🇸 Mária P. – It's one of my favourite songs of Eurovision 2000. It has a very nice melody, and Pınar did a very good performance. I like the fusion of modern and folk Turkish sounds, and the use of their own language in most of the song. It's fair that this entry made the top 10, and it would have been yet fairer to have reached top 5.
🇹🇷 Gunec G. – This emotional, romantic and danceable piece from beautiful Pınar Ayhan surprised us by bringing the 10th place to our country. It's melodic, rhythmic, and well sung. Thanks Pınar and SOS 🙂
🇨🇿 Josef S. – I like entries that can be immediately recognised and put to some country. And with Turkey 2000 you cannot be mistaken. To me, it sounds like typical Turkish music and I absolutely love it. And Pınar Ayhan is really beautiful in that white dress. I will definitely listen to this song more and more, as I get something new out of it. Like the qualities of The SOS guys who accompany Pinar here.
🇩🇰 Alberte B. – She's a talented singer, and it's a fun song. I'm happy about the song that won that year (obviously, as I'm a Dane), but this one was very good too.
🇬🇧 Michael O. – I often wondered if this song had a tune or whether they were just winging it on stage with whatever happened. Thing is though it was quite pleasant to watch and listen to.
🇩🇪 Andrew G. – This is very middle of the road. No ups or downs. The staging works well for the early 2000s. Pınar's voice starts off shaky but by the time the English lyrics start she seems more confident. Turkey got so much better in the years to come.
🇫🇮 🇨🇴 Alvaro S. – I like the sound of the accordion and the guitars on this song. It gives it this seductive feeling. The composition reminds me a little of some Spanish entries from the early 2000s such as Dime Que La Quiero. An entertaining act.
🇷🇴 Mihai D. – In 2000 Eurovision was won by Olsen Brothers from Denmark, with a very good song. Now, in retrospect, Turkey has not had a negligible presence, although it is a rather inconsistent country. Over time, Turkey was unconvincing, but it also won the competition. Unfortunately, in recent years they disappeared from the competition. In 2000, Turkey had a decent presence with a singable song, without ethnic influences (which we were used to a few years before) but with a slightly naive patterned show. A middle-ranking presence.
Enjoy Pınar Ayhan's performance from the 2000 Eurovision Song Contest in the embedded video. Below the video, you can read more about her.
Pınar Ayhan – a mini biography
Pınar Karakoç Ayhan was born on the 28th of March 1972. She participated in Turkish Eurovision National Finals three times. Her first participation was in 1996 as a duet with Tüzmen (Turkey 1998) with the song Var mısın Söyle and they came second. Her next attempt was in 1997 with Sen Nerede Ben Orada. She finally managed to win the Turkish National Final in 2000 with Yorgunum Anla and placed 10th in Stockholm.
In 2012, she released an album named Duyuyor musun?. She hosted a TV show on TRT named Günlük Rehber in 2000. Before the pandemic, she was staging a theatre show named Kemal, a memorandum for Mustafa Kemal Atatürk, founder of Turkish Republic.