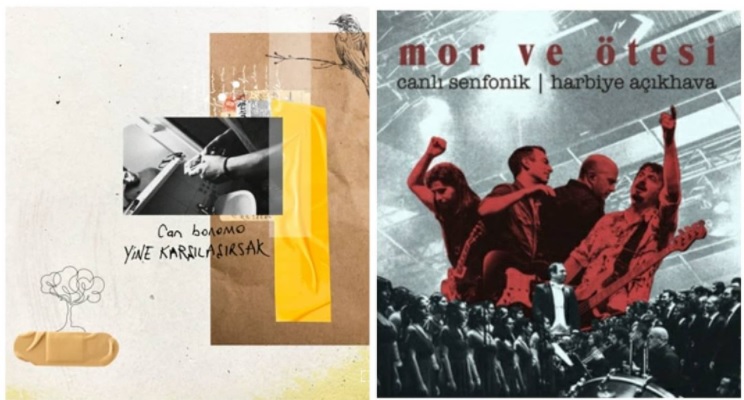 Many artists make new releases towards New Year with high hopes from 2021. Turkish Eurovision acts Mor ve Ötesi and Can Bonomo are no exception.
Mor ve Ötes represented Turkey at the 2008 Eurovision Song Contest. With the song Deli they finished in 7th place. In 2012, Can Bonomo became the so far last act to represent Turkey in Eurovision. Also he finished in 7th place with the song Love Me Back.
Mor ve Ötesi – Harbiye Açıkhava (Canlı Senfonik)
Mor ve Ötesi released a new album of their 2019 concert in Harbiye Açıkhava Arena. The concept of the concert was the symphonic versions of their most beloved songs. In the concert, the band members Harun Tekin (lead vocal, rhythm guitar, keyboard), Burak Güven (bass guitar, back vocal), Kerem Özyeğen (solo guitar, back vocal) and Kerem Kabadayı (drums) were accompanied by Avrasya Philarmony Orchestra conducted by Orçun Orçunsel and Magma Philarmony Choir conducted by Masis Aram Gözbek.
The album consists of 10 tracks including their 2008 Eurovision entry Deli. Here is the track list of the album:
1 – Aşk İçinde, 2 – Kış Geliyor, 3 – Nakba, 4 – Yağmur, Teşekkürler, 5 – Cambaz, 6 – Deli, 7 – Son Deneme, 8 – Oyunbozan, 9 – Uyan, 10 – Bir Derdim Var
You may find the album on Spotify below:
Can Bonomo – Yine Karşılaşırsak
Can Bonomo recently released his latest single Yine Karşılaşırsak. Yesterday we were treated with the video of the song. The song is composed and written by Can Bonomo – Can Saban team. It's released from Avrupa Muzik label. The video is directed by Can Saban who is also the composer of this song and as well as Bonomo's Eurovision entry Love Me Back.
In this song, Can is addressing his ex girlfriend. He expresses his wish to be remembered by her if they ever meet again someday.
Enjoy the official video in the embedded video below: