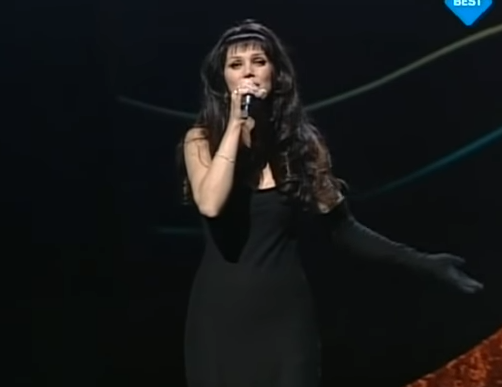 Turkey usually sends uptempo songs to the Eurovision Song Contest. One of their few ballads was 'Sev (Love)' performed by Arzu Ece in 1995. 26 years later, we find fans who believe this is one of Turkey's better entries.
Turkish broadcaster TRT held the national final for Eurovision on the 18th of March 1995 at the TRT studios in Ankara in order to select the Turkish representative they will send to Dublin.
Among the 10 entries that competed, Sev was selected by the expert jury. The power ballad was written by Zeynep Talu and Melih Kibar, and performed by Arzu Ece. The song was originally to be sung by Yeşim Dönüş Işın. However, TRT asked Arzu Ece to sing it instead of Yeşim. Arzu Ece also competed with the song Sevda, a duet with Fatih Erkoç.
In Dublin Ireland, at the Eurovision Song Contest, Arzu competed 10th in line accompanied by three back vocalists and in a black costume. After a strong performance, she received only 21 points and finished in 16th place.
Sev (Love) – opinions from fans
In order to find out what Eurovision fans today think of this Turkish entry from 1995, we asked our Eurovision Fan Panel. It includes team members as well as fans from all over the world.
🇬🇧 Michael O. – This was a very strong ballad from Turkey and showed a lot of improvement from earlier Turkish entries, probably not as good as some of its competition at Eurovision that year, but it's still a good listen even today.
🇩🇰 Charlotte C. – I am sorry, but this is plain boring. It is good to me that the song doesn't sound 'too Turkish' as I generally don't like those, but this is just boring. Near the end of the song, it does get interesting, but it's too late to really grab my attention. Vocally, she is strong though, and I like that.
🇹🇷 Gunec G. – I have been a fan of Arzu since late 70s. She has tried for Eurovision a few times, competed in 1989 and 1995. I'm following her social media accounts, and she is such a sweetheart. Singing Sev, she looks like a beautiful elegant black swan and lets us enjoy her beautiful voice. The composer of the song Melih Kibar (also the composer of Halley 1986) is a very celebrated musician in Turkey who passed away at a young age. I love this song ♥️
🇨🇴 🇫🇮 Alvaro S. – It is always challenging harmonising different voices even if all the members of one group are talented as solo artists (see Armenia 2015 for reference). The fact that they have not only good voices, but they perform an outstanding ballad from the first notes to the end of the song makes this song a gem from the 1995 festival.
🇬🇧 Paul G. – The 90s for me was when Turkey started sending some absolute corkers to Eurovision. For me 1995 was one of the best and it deserved so much more than 16th place.
🇪🇸 Alexander S. – In 1995, the Turkish audience chose Arzu Ece to go to Dublín, she performed Sev, which I have to admit I did not recall at all. I find the song boring, tedious and linear. I do recognise that she has got a great voice but the song was not an outstanding election. We have to point out Arzu has tried 4 times before, and she was already in 1989 on a Eurovision stage, so she has kind of experience.
🇳🇴 Robert I. – This is quite a good song. Arzu Ece also participated in 1989 with the group Pan and their song Bana Bana. Although Sev is a good entry, I liked Bana Bana much better.
🇷🇴 Doina A – A beautiful ballad about love! Arzu Ece's presence on stage was stunning, her melodious voice with oriental modulations and the background singers made the song unforgettable! "Laugh… Love, love is with us!"
Enjoy Arzu Ece's performance from the 1995 Eurovision Song Contest in the embedded video. Below the video, you can read more about her.
Arzu Ece – a mini biography
Arzu Özkaraman aka Arzu Ece was born on the 22nd of September 1963. She has been in the music industry since late 70s. Some of her singles are Sen Yok musun (1976), Dün Bugün Yarın (1976), Beni Sen Çağırdın (1985), Sebebi Yok (1994), Sev (1995), and Master Chemo (2012). 
She has participated in the Eurovision Turkish national finals in 1987, 1988, 1989, 1991 and 1995 as a solo artist and as part of a group or a duo. Twice has she represented Turkey at the Eurovision Song Contest: In 1989 as a part of group Pan and in 1995 as a solo artist. Ece's Eurovision candidate songs are as follows:
In 1987, Ece participated with Keloğlan which she performed with Rüya Ersavcı, Fatih Erkoç and Harun Kolçak. Only two of the 10 participating songs received jury votes that year.
In 1988, she sang Zig Zag duet with Çiğdem Tunç.  – Placements were not released that year.
In 1989, she won the national final with  Bana Bana as a member of Pan
In 1991, she came 2nd with Sessiz Geceler as a duet with Gür Akad (the guitarist in Halley 1986).
In 1995, she won the national final with Sev this time as a solo artist.
In 2009, she was diagnosed with leukaemia and underwent several treatments including chemotherapy. She has written and performed Master Chemo after she got over the illness. Currently, she is living in Florida, USA with her son, participating and organising different events with and for the Turkish community.