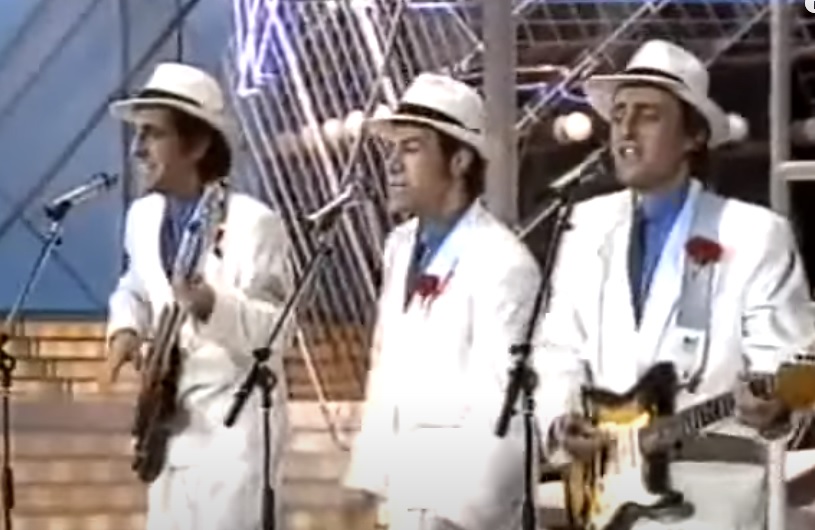 In 1985, Turkey sent MFÖ to the Eurovision Song Contest. The band, also known as Mazhar-Fuat-Özkan finished in 14th place with the song 'Didai Didai Dai'. They are still today a popular name in Turkey with sold out concerts.

The 1985, the Turkish national final was held on the 1st of March 1985 in TRT studios and all the participants were the A team of Turkish pop at the time. Especially Neco (Turkey 1982) seemed very keen on representing his country again so he participated with four songs, all duets with Turkish star Nükhet Duru. However, the super popular pop trio Mazhar – Fuat – Özkan (aka MFÖ) eventually got the ticket to Gothenborg. Their song Aşık Oldum changed title to Didai Didai Dai afterwards.
In Gothenborg, the uptempo, energetic song got a big applause at the night of the performance. Eventually, they came 14th with 36 points. Their name changed after the hostess Lill Lindfors simply called them MFÖ. Also Lindfors'dance during MFÖ's performance caused much excitement among Turkish spectators. The band finished in 14th place.
After the 'Eurovision Again 1985 edition' on the 15th of August 2020, MFÖ got the 4th place with 6373 online votes.
Didai Didai Dai – Opinions from fans
In order to find out what Eurovision fans today think of this Turkish entry from 1985, we asked our Eurovision Fan Panel. It includes team members as well as fans from all over the world.
🇩🇰 Charlotte J. –  Let it be said right away, the number of Turkish entries I like can be counted on one hand. Unfortunately, the more true to their ethnic sound a song, the more I usually dislike it. This 1985 entry I do like however. It's a catchy 1980's song with a line easy to sing a long to. It's not one I frequently listen to, but when it pops up, I do like it.
🇬🇧 Michael O. – Host Lill seemed to like this one and its easy to see why. A catchy little number that was indicating an improvement in Turkish entries. Time may not be so kind to the song as it has dated a little, but at the time it deserved the points it received.
🇵🇱 🇯🇪 – Pawel J. – Songs from Turkey were always amongst my favourites every year and 1985 isn't any different. I just love the positive energy and lyrics. Simply – it just makes me happy and I smile every time when I listen to it. Didai Didai Dai– Turkey – please come back to the contest
🇲🇹 Christopher D. – It is quite difficult to judge a song from 1985. The genre is totally different from what we are used to in Eurovision nowadays, and it was the first time I heard this song. It is quite catchy with some ethnic vibes mixed in as well. But not outstanding. But I was really captured by the way the postcard was made, including the writer of the song and music, and also the fact that the presenter used to present the entries one by one before the songs. How things have changed over the years!
🇨🇴 🇫🇮 Alvaro S. – I like the cheerful attitude of this group through the song. The "Oh… Didai Didai Dai" sound so positive and the group seems to be enjoying themselves in this performance that the feeling is contagious. A cute entry that gives me a positive vibe.
🇨🇿 Josef S. – With Turkey you never know what you get. Like in 1985, when their song could have been a completely different country judging from the sound and style. But it's so weird I can not actually decide if I like it or not. Maybe I would incline to "better than average" as it has some very nice moments and ideas. At least it's surprising, no matter the way how it surprises the audience.
🇹🇷 Gunec G. – This reminds me of my teenage years when me and all my classmates were groupies for those three boys. And as a Eurovision fan, imagine my excitement when they were announced to represent our country in Eurovision. The song was catchy and the boys were so relaxed and professional on stage. And I remember seeing Lill Lindfors dancing back during the performance. Such a nostalgia.
🇪🇸 Alexander S. – In 1985 Turkey was represented by the group Mazhar, Fuat, Özkan (MFÖ) They sang an average turkish flavour song … not very interesting in my view. I like more the video than the performance. The song sounds old fashioned and not easy to keep in your memory. Nowadays the band keeps touring mainly in Turkey and releasing from time to time a new album.
Enjoy MFÖ's performance from the 1985 Eurovision Song Contest in the embedded video. Below the video, you can read more about MFÖ.
A Mini Biography to MFÖ
The trio consists of Mazhar Alanson, Fuat Güner and Özkan Uğur.
Mazhar and Fuat met in 1965. After they have become friends, they started making music with different popular rock groups like Kaygısızlar. Özkan joined them in 1971 and they continued their musical journey in different rock groups. With one of these groups called Grup Karma, they have participated in 1978 Eurovision Song Contest Turkish National Final with their song İmkansız (Impossible). They've ended up 4th in the national final where Nilüfer and Grup Nazar won with Sevince.
The trio formed their own group in 1980 and started with a musical called Merhaba Müzik.They have tried for Eurovision 1981 and 1982 which ended up with failure.
They released their breakthrough album Ele Güne Karşı in 1984, which made them a star group in Turkey. Twice, have they had the honor of representing their country: First in 1985 with Didai Didai Dai (14th with 36 points) and in 1988 with Sufi (15th with 37 points).
The group has been very productive throughout their career with numerous smash hits and 11 albums. Today, they are still among the most celebrated artists in Turkey whose concert tickets get sold out in no time.