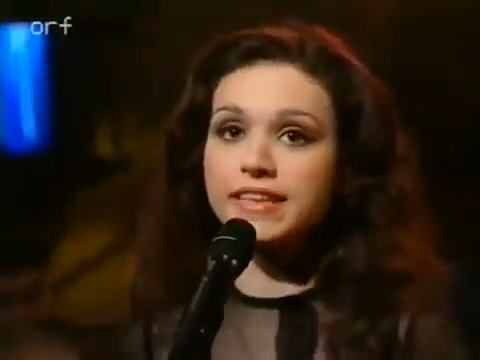 Until 1997, Turkey had problems getting good results at the Eurovision Song Contest. Şebnem Paker changed that and earned a highly respectable 3rd place with her ethnic pop piece 'Dinle'.

On the 1st of March 1997, TRT held a national final in its Arı Studios. 10 participants competed for the right to represent their country. Tüzmen (Turkey 1998) and Tuba Önal (Turkey 1999) were among those well known participants. There were two highly popular artists named Erdal Çelik and Burcu Güneş to take part in the 1997 Turkish National Final as well.
Out of the 10 contestants, Şebnem Paker and Grup Etnik won the right to represent Turkey with their mid tempo ethnic-pop song Dinle. The music was written by Levent Çoker and the lyrics by Mehtap Alnıtemiz.
Şebnem's partnered with Grup Etnik , which consisted of very popular and talented musicians. Especially Ercan Irmak who played the ney (the wind instrument) and Ahmet Koç who played the bağlama (the stringed instrument) are considered to be the virtuosos of their instruments in the country. Şebnem and the group took the stage as second and received a total of 121 points which earned Turkey the 3rd place for the first time in the Eurovision history.
Dinle – Opinions from fans
In order to find out what Eurovision fans today think of this Turkish entry from 1997, we asked our Eurovision Fan Panel. It includes team members as well as fans from all over the world.
🇩🇰 Charlotte J. – Whenever Turkey (and other countries too) include too much of their ethnic sounds, I am unfortunately pu off. I don't like it. That's the same with this one too. I am aware of that it's an issue I have which makes me unable to fairly judge a lot of their entries, but in a personal opinion, it's relevant as that is how I feel, and have always done. The Turkish entries which don't sound too ethnic, I usually love.
🇹🇷 Erman Ö. – Wonderful, wonderful, song. It's an ethnically spectacular song from Turkey and I think Dinle is the best song from Turkey at the Eurovision Song Contest, I like ethnic songs so I love it. Dinle has some Turkish instruments bender, tambourines, ney and bağlama. It is so Turkish. With  none English, and without music record companies, Turkey finished in 3rd position. United Kingdom may have won that year, but we lived the victory.
🇬🇧 Michael O – This was a good entry from Turkey but I felt it's stops and starts with the tune let it down, every time it upped the tempo it changed direction. One of the better songs though from a generally poor year.
🇷🇸 Milosav T. – One of my favourites from the 1997 edition, Şebnem's second attempt is one of the Eurovision songs I play on a weekly level. I honestly wish there were more songs like this today, where the ethnic sound is well combined with a contemporary arrangement. Also, I am a proponent of everyone singing in their own language, as well as using a live orchestra (when possible). What I like most about it is the apparent effortlessness and spontaneity in their performance, especially since it's not an easy song to sing. Bravo!
🇨🇿 Josef Š. – Another one I did not know before. And this is really good. I like the ethno vibes and feelings this song evokes in me. Well sung and a good performance as well. I usually don't automatically like all Turkish entries but this one is good. It also has an interesting sound, almost mediaeval – like. Good job, Turkey! 👍
🇨🇾 Elena T. – Very nice song, I actually remember this one as a child and I enjoyed it because of the singer's lovely voice and traditional instruments. It was a good year for Eurovision!
🇷🇴 Doina A. – I listened to this nice song again and again and I felt like travelling in the Mirific land of Turkey. Traditional instruments, her sweet voice, nice movements…indeed, an "audio" picture of Turkey telling on notes about love! It was a real pleasure to hear oriental influences on the scene of Eurovision!
🇨🇴 🇫🇮 Alvaro S. – This is one of the most memorable entries from Turkey in the 90s. The sound of the chorus in particular is very enjoyable and the instrumentals are memorable. Back then we had the relegation rule. Based on the average, Turkey was only 6.08 higher than the countries in the relegation zone. We almost lost this beautiful piece because of that rule!
🇹🇷 Güneç G. – This song made history in Turkey. The ethno – modern sound and Turkish language was not expected to bring that success but it did. When I watch the performance over and over, I see highly talented people performing their art with love on stage and having fun. The strange thing is that Şebnem did not become a popular high profile celebrity in Turkey. She chose to lead a modest life with her loved ones still full of art. She is currently a very successful music teacher. She is a very warm hearted person, who happens to meet the Turkish Eurovision fans from time to time at special Eurovision parties.
Enjoy Şebnem Paker's performance from the 1997 Eurovision Song Contest in the embedded video. Below the video, you can read more about Şebnem Paker.
A Mini Biography to Şebnem Paker
Şebnem Paker was born on the 20th of July 1977 in Istanbul, Turkey. She took classical guitar education at Istanbul State Conservatory. In 1996 she enrolled in singing department of Marmara University. Hence she has double major in music.
She represented her country twice at the Eurovision Song Contest. The first one was in 1996 with Beşinci Mevsim. She received a total of 57 points and this gave her the 12th place. One year later, in 1997, she sang Dinle in Dublin and received 121 points and earned the 3rd place. She participated in the Turkish national final in 1998 as well with Çal. However, Tüzmen was the lucky one to go to Birmingham with Unutamazsın.
Currently she is leading a modest life with her kids and husband working as a music teacher.