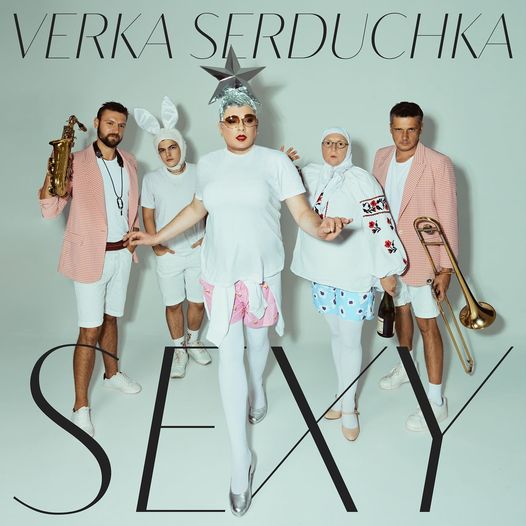 Verka Serduchka, one of the brightest Eurovision stars, has launched a four-track EP "Sexy". With the new album, Verka is celebrating life, individuality and diversity through partying, dancing and drinking a lot of champagne.

Forget everything about nowadays problems and worries, open a glass of cold champagne, put a smile on your face and get ready to party. Those are the headlines for Verka Serduchka new EP, which was released today. The album is called Sexy and consists of four tracks which all together try to bring some happiness and positivity in 2020 – a year that hasn't been too kind to the humankind so far.
The first track, Swedish Lullyby, is a contemporary pop song that addresses people who are dealing with self-doubt, trying to encourage them to stop to hate themselves and celebrate life through all the ups and downs.
The second track, Sexy, includes champagne too. It is a sensual, heavy dance song with the oriental vibes that persuades you to lose control and enjoy the life.
You're feeling sexy, you're feeling hot, bring in the champagne, let's make it pop, we need no haters, we're born to dance, all the way from Tokyo and back to Amsterdam.

Lyrics to 'Sexy' – Verka Serduchka
The third track, Disco Kicks has obviously been inspired by the 80's disco music. The song celebrates all genders and every person's right to be what they want to be no matter what other people may think or say.
The fourth track, Make It Rain Champagne, is, just like Sexy, a mix of the modern pop og and oriental music. It is a song about living in the moment and making each moment of your life memorable, even when you for instance "are sitting in the bath tub, riding on the train or waiting at the bus.
Who is Verka Serduchka?
Serduchka's real name is Andriy Mykhailovych Danylko. The character of Verka Serduchka, which Danylko describes as a flamboyant middle-aged woman from a rural family, who happens to be working as a railroad sleeping car attendant, was created in 1990.
Verka's first appearance came in a Poltava comedy competition in 1991 before Danylko began to create other characters in the late 90's, such as a soldier, a female ballet dancer and a police officer. Soon after, Danylko went on to host his own talk show titled "SV-show". It was such a big success, that several major Ukrainian television channels were broadcasting the programme.
In 2007, Verka Serduchka represented Ukraine in the Eurovision Song Contest, where she finished in second place. The song Dancing Lasha Tumbai peaked at number six on the French and Swedish Singles Chart, number two in Finland and number 22 on the overall European Hot 100 Singles. To date, Danylko has released eleven studio albums.
In the embedded video below, you can watch Verka's performance of Make It Rain Champagne in the final of Ukrainian X-Factor last year: