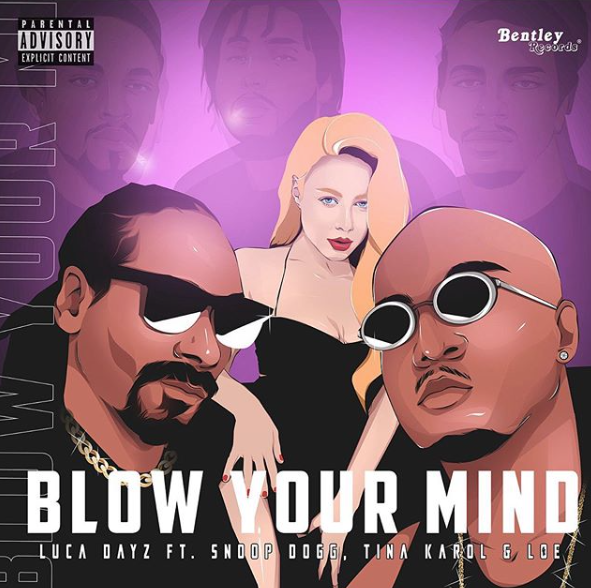 Ukraine's Tina Karol has teamed up with Snoop Dogg, Luca Dayz and Loe for her latest single 'Blow Your Mind'. The single is Karol's first major English language release following her Eurovision 2006 entry 'Show Me Your Love'. Can the new track open the door for a career in the west?
Three years ago, Ukrainian star Tina Karol spoke of her desire to release music in English speaking countries. After representing Ukraine at the Eurovision Song Contest in 2006 and finishing in 6th place she made a huge career for herself in Ukraine and some of the neighbouring Russian speaking countries but had yet to make a big release in the West. Today she premiered her latest single Blow Your Mind which is a collaboration with US rapper Snoop Dogg, R&B singer Luca Dayz and Loe. The single was co-written by by Snoop Dogg, Luca Dayz, Loe, Dominic Farrar as well as Yana Mayornikova, Tina's agent and manager.
Speaking about when she was told about the collaboration, Tina said "I sat at home, the phone rang. And the label representative tells me that we have great news for you, we will have a collaboration with Snoop Dogg. This was the first shock! And then they tell me you only have an hour to record your piece in the track! Another shock! Just an hour! I immediately thought, we have cool Ukrainian authors. Immediately found a new song by one of our Ukrainian authors, I cooperate with him, took a piece from it, invested, sang, made a text. And it turned out to be a whole picture"
Blow Your Mind is a mid-tempo hip hop song with a smooth melody and beat. The track starts with Snoop Dogg and Luca Dayz with Tina's singing a verse one minute into the song followed by some of her signature vocal intonations. The song was premiered on Apple music with the official lyric video quickly following. Due to the Covid-19 pandemic they decided not to shoot a video but instead release a lyric video.
You can listen to the song by watching the official lyric video below. Please be aware that this song does contain some explicit language.