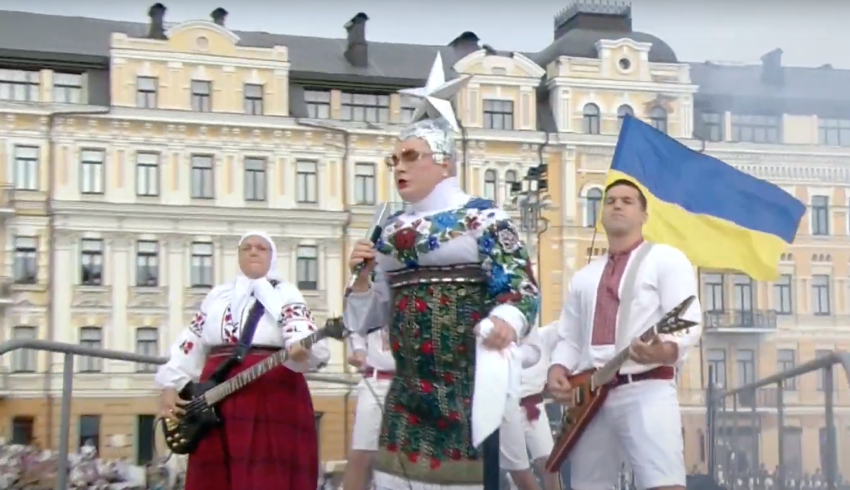 Ukraine's most famous stars took to the streets of Kyiv to film a special musical montage to celebrate the Ukrainian Independence Day. Included in the performance were many of Europe's favourite Ukrainian Eurovision and Vidbir stars including Ruslana, Tayanna, Tina Karol, Verka Serduchka and The Hardkiss.
To celebrate Independence Day in Ukraine a special video montage has been released by Fakty ICTV featuring performances from Ukraine's biggest stars singing each others songs in front of different Kyiv landmarks. Usually Independence Day in Ukraine is a big celebration with street performances in front of large crowds. This has had to be scaled back this year due to the Covid-19 pandemic.
The 12 minute video features performances from winners Ruslana and Jamala as well as performances from runner-up Verka Serduchka and 6th place competitor Tina Karol. In true Verka Serduchka fashion, the 2007 runner-up made her entrance very clear as she descended onto a Kyiv Square on top of a Metro train.
In addition to Eurovision stars the video also featured performances from some of Europe's favourite Vidbir stars such as Tayanna and The Hardkiss. The Hardkiss who were runner up to Jamala in national final Vidbir in 2017, and who have since become one of Ukraine's biggest rock bands, performed a snippet of Jamala's winning entry 1944. Other familiar faces also include Monatik and Vremya I Steklo.
You can enjoy the performances by watching the video below: