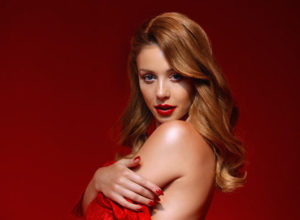 She became a superstar in her home country after her Eurovision performance, but Tina Karol now has set her sights even higher as she aims to conqour the English language charts and makes her first UK release.
It has been over 10 years since Europe first saw Tina Karol when she came 6th place in Athens with her entry Show Me Your Love. She has released countless hits, wrote a children's book, became a judge on one of the countries most watched talent shows, released her own lipstick range and received prestigious awards from the President. Tina wants to take this one step further and conqour the all important English language charts. She has started by releasing the single Blindfold with an album to follow next year.
In an interview with abitofpopmusic,   Karol explained why she decided to take the leap. Karol explained that she was inspired by her son Veniamin who attends school in the UK. First and foremost she wants her son to be proud of her. She also declared, "I like to dream boldly, I want to destroy the iron curtain that we have lived behind all this time. I dream of becoming a pioneer, thereby hoping to show this generation that we live in a world without borders."
When asked to describe the new single Blindfold, Karol said: "It is a mix of traditional Slavic melodies and drama combined with trip-hop beats – which are not inherent in the Slavs. It is my desire to unite the cultures and countries. This track means a lot to me, I'm so proud to be able to bring it to the UK!"
Karol also touched on Eurovision, hinting, perhaps jokingly, that she might want to represent the UK at the contest one day. She also expressed her delight at Salvador Sobral winning the contest this year. She noted it was the first time in years that a track won based solely on its organic musical quality and wished that more winning songs contained that quality.
You can hear Tina's new single below. Does she have what it takes to win the hearts of the UK?