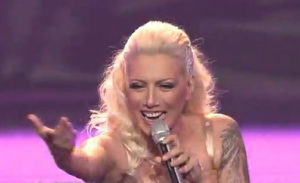 Early 2000's were quite satisfactory for Turkey with one victory, seven top 10 and four top 5 placings. One of the few occations, things didn't go that well was in 2006 where Sibel Tüzün represented the country with the song 'Superstar'.
In January 2006, TRT's vice general manager Ali Güney announced that famous pop star Sibel Tüzün was selected internally to represent Turkey at the Eurovision Song Contest in Athens. It was added that Turkish language would be mandatory for the entry.
In another press meeting held by TRT in March 2006, Superstar was announced as the entry along with the video presentation of the song. The mid-tempo pop tune with oriental flavours Superstar was written and composed by Sibel Tüzün herself.
Sibel made her show in Athens in both semi final and the final accompanied by 5 British male dancers. She gained 91 points from both shows and placed 8th in the semi final and 11th in the grand final.
Superstar – Opinions from fans
In order to find out what Eurovision fans today think of this Turkish entry from 2006, we asked our Eurovision Fan Panel. It includes team members as well as fans from all over the world.
🇪🇸 Alexander S. – I really like the song. When you hear it, you know it's a Turkish song. She had a great performance, good voice… but she only managed to finish 11th. In Turkey she had big hits before her participation. Finally, I must say that apart from singing Sibel is a keen sailor and an accomplished co-driver having assisted for two racing seasons.
🇹🇷 Güneç G. – This song is one of the songs I'm least favourable of from my country. Still I can never deny Sibel's charisma.The song is quite catchy too and makes you sing along. Actually, given Sibel's musical backgroung, I'd expect something different and better from her for Eurovision. Still I am proud of Sibel and Superstar.
🇷🇸 Milosav T. – Hmmm…I'm really on the fence with this one! The fact is I remember it from the contest, which is usually a good sign, but what do I remember it for? Maybe for her looking a bit like a drag queen? Or the occasionally shaky vocals? The song starts funky and strong, then goes into an unexpected ethnic vibe, then comes back again, then some (poor) English is heard… In general, not bad, but had potential to be much better. And yes, I miss Turkey in Eurovision!
🇩🇰 Charlotte J. – Did this song really finish 11th? I had to check two different sources just to be sure, it was correct. I honestly can't understand anything of that. I do hear potential in the chorus, but the verses are flat and uninteresting, and it's like she doesn't know what to do during those. This is the kind of song Ukraine, would have known how to tweak, spice up – and fully deserve a top 10 position with. The Turkish 11th place here is way more than it deserved.
Michael O. – This was quite a sultry performance from this natural blonde. Quite enjoyable and off beat enough for it not to be over commercial, but staying on the right side of mainstream. I actually liked the English version more, but good for her sticking to mainly Turkish on stage.
🇹🇷 Erman O. – The song is good. I like it, despite being a bit average, but Sibel has a problem, a language problem. Broadcaster TRT didnt give permission to use the English language, and it caused problems afterwards when she sang a part of Superstar in English anyway.
🇦🇺 Michael R. – This is so 2006. Sibel knows how to give a performance, but it feels like Turkey is trying too hard to do star everyone else was doing at the time rather than do their own thing. I think this would've struggled without diaspora supporting it. But I still like this song.
🇨🇴 🇫🇮 Alvaro S. – The whole performance with the stars decorations including on the dancer's belts and the star formation was kitsch. The song sounded repetitive, specially in the chorus and it sounded dated.
Enjoy Sibel Tüzün's performance from the 2006 Eurovision Song Contest in the embedded video. Below the video, you can read more about Sibel Tüzün.
A Mini Biography to Sibel Tüzün
Sibel Tüzün was born on the 29th of September 1971 in Istanbul. She started to build her musical background at the age of 7 in the Kid's Choir of TRT Istanbul Radio. In her high school years, she began to get interested and involved with pop and rock music.
She participated in some local music contests for young talents and began working with famous artists such as Ajda Pekkan (Turkey 1980) as their back vocalist. She was accepted with the best degree to Istanbul University Conservatory with an Opera and Concert Singing major in 1988. Meanwhile she carried on with her carrier as a jazz vocalist in famous jazz clubs of Istanbul with which she was very successful.
Her professional musical career started in 1993 with her debut album Ah Biz Kızlar which became a big hit in Turkey. She gained name and fame right after this album and became one of the milestones of Turkish pop music in the 90's. She released many albums and singles with different genres from pop to rock and jazz. Her last album Saten was released in 2010. She also recorded her Eurovision entry Superstar in English and Greek languages. She has recently participated in different TV and film projects. She is currently into Yoga and living in London.