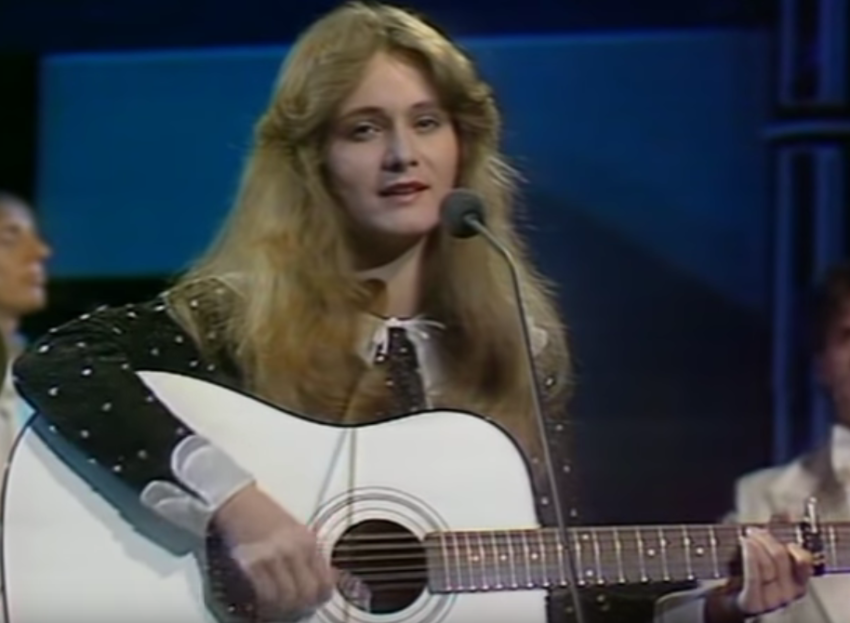 In 1982 Germany won the Eurovision Song Contest for the very first time. The winning formula was a girl with her guitar singing about the anxiety and fear many people experience living in the midst of the cold war. Today fans still see this song with nostalgia while also noticing how the message of Nicole's song is still relevant these days. 
For the Eurovision Song Contest 1982 Germany organised Vorentscheid 1982 as their national final. 12 acts competed to represent Germany in Harrogate, United Kingdom. Nicole was the last contestant to sing during the national selection, a situation that would also repeat in Eurovision. By the end of the selection she got the most number of points with Ein Bißchen Frieden (A little peace). The famous Eurovision songwriter Ralph Siegel composed the song.
Nicole performed her song Ein Bißchen Frieden, playing the guitar together with the support of a backing group. She was only 17 years old when she participated at the Eurovision Song Contest.
After the voting closed, Nicole received 161 points, 61 points more than Israel that came in second place. In fact, she later said that one of the best moments for her was to receive 12 points from Israel during the final.
This was the first victory for Germany at the Eurovision Song Contest. During the two previous contests Germany has come in second place though. After receiving the prize, Nicole improvised and sang the song in German, English, French and Dutch. Later, it was also released in languages like Russian, Italian and Danish.
Ein bißchen Frieden- opinions from fans
In order to find out what Eurovision fans today think of this German entry from 1982, we asked our Eurovision Fan Panel. It includes team members as well as fans from all over the world.
🇩🇰 Charlotte J. – This has become a Eurovision classic for a reason: It's one of the most rightful Eurovision winners. An instantly likeable, young girl with a universal message. She recorded it in so many different languages including rather unusual ones like Danish and Russian. As a Dane, I really adore the Danish En Smule Fred. When you see Nicole perform today, it's hard to believe that 38 years has passed since she took Europe by storm with her slightly oversized guitar. I love it, and I am glad that songwriter Ralph Siegel got this victory. Forget the many San Marino entries lately of mixed quality and listen to his older Eurovision songs. There's a lot of good stuff among them.
🇬🇧 Richard C. – A poignant winning song for Germany. A sweet lullaby calling for peace and freedom and for an United Germany pre the fall of the Berlin Wall in an ever changing European landscape. I remember it well and has became a very treasured memory when I watched it as a youngster. This is when Eurovision become an annual event in my calendar. It was a launchpad for Nicole as successful singer. One of those classic Eurovision gems for sure. Absolutely love it!
🇨🇴 🇫🇮 Álvaro S. – Ein Bißchen Frieden, such a beautiful yet dramatic song begging for a little peace. It is sweet and sad at the same time. No doubt why this song was the winner that year. And at the same time it is sad to think that the message of the song message remains current, specially when, sadly, there are many conflicts in the world including in Europe and you can hear even Eurovision fans these days taking sides against another country.
🇩🇰 Alberte B. – I absolutely adore this song. It's so simple, yet so beautiful. Nicole sings it so beautifully. Also, kudos to her for translating it and singing it in a bunch of other languages as well – that's dedication and talent!
🇩🇪 Andrew G. – The childhood memories come flooding back. Remember sitting on the floor in front of the TV. I recall all my family was extremely proud that Germany finally won. This song will always be close to my heart. The lyrics are still so current today. Because everyone all over the world would be grateful for 'Ein bißchen frieden'. The performance is hopeful and simple. A girl with a guitar and a message for mankind.
🇲🇹 Christopher D. – This is one of the best songs Germany had, and it is not a surprise that it won that year. Nicole is an amazing singer and the whole presentation during the contest was simple yet amazing. I think it is one of the past Eurovision songs that I am willing to play again and again.
🇬🇧 Michael O. – If ever there was a year when only one country deserved to win, this was it. Head and shoulders above everything in the 1982 contest, this is a true Eurovision classic. Love it.
🇹🇷 Günec G. – An epic and historical winner from Germany. I remember seeing this win as an 11 year old child. Nicole's innocent beauty and the trill in her voice is something to remember. She was so happy to get votes from Israel so she said in a recent interview. Well deserved victory.
🇩🇪 Pascal W. – The first time our country won Eurovision – and it's still a classic. I don't know anyone who doesn't know this song. It's very timeless and never gets old.
Enjoy Nicole's performance from the 1982 Eurovision Song Contest in the embedded video. Below the video, you can read more about her.
Nicole – a mini biography
Nicole Seibert is a German singer. She was born in Saarbrücken, Germany.  Nicole was only seventeen when she participated at the Eurovision Song Contest. She won the contest with Ein Bißchen Frieden. This gave Germany its first victory at the Eurovision Song Contest.  After her victory she recorded her winning song in Danish, English, Italian and Russian. The song has been covered in different languages including Czech, Croatian, Finnish, Hungarian, Polish, Slovene and Swedish.
Nicole is the only Eurovision artist whose song came on the top charts in every country it was released. She married in 1984 and has two daughters and a grand daughter. In 2020, Nicole celebrated her 40 anniversary in the music industry with a series of concerts. Due to the Covid-19 pandemic these dates were re-scheduled to November, 2020.