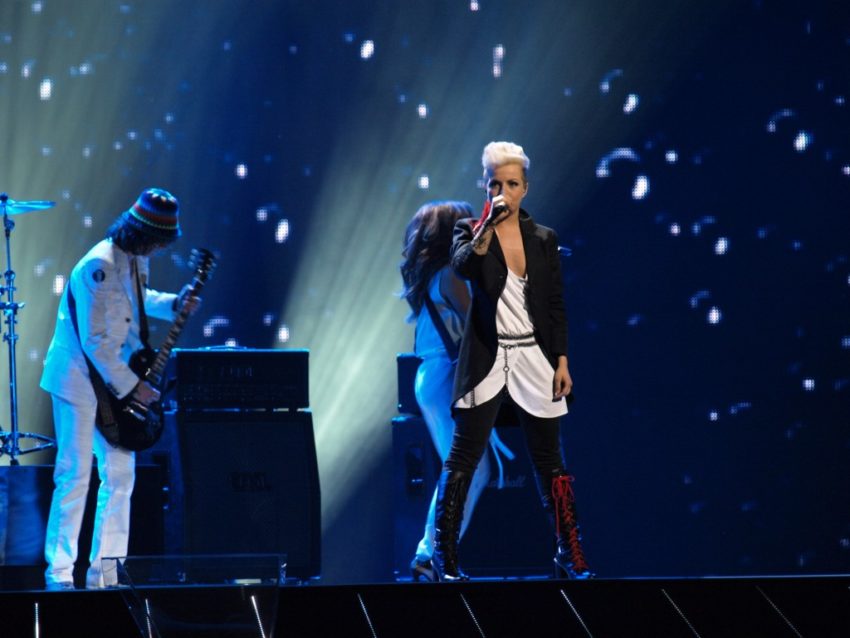 In her first Eurovision appearance, Poli Genova failed to reach the final. While most Eurovision fans prefer her second entry, many do argue that she should have qualified in 2011 with the song 'Na Inat'.
Receiving the maximum 12 points from both the jury and the televoting, Poli Genova was a clear winner of Evroviziya 2011, the Bulgarian national final. Back then, it was Poli's second national final appearance after finishing second behind Krassimir Avramov two years earlier.
At the Eurovision Song Contest, Na Inat, which was sung in Bulgarian, finished 12th in it's semi-final. As such, it didn't qualify for the final. The 48 points the song received included two sets of 10 points; from Cyprus and Italy.
Na Inat – opinions from fans
In order to find out what Eurovision fans today think of this Bulgarian entry from 2011, we asked our Eurovision Fan Panel. It includes team members as well as fans from all over the world.
🇳🇴 Robert I. – This is one of Bulgaria's great entries which I still listen to. Energetic and melodic. Poli Genova is also a very charismatic artist.
🇩🇰 Charlotte J. – The 2011 contest was a weird one in my opinion. It leaves me with so many questions. Did Azerbaijan win playing fair? How did Jedward manage to score a top 10 result? And why on earth didn't Bulgaria qualify for the final?
Poli Genova's Na Inat is to me the best of her two entries. It's extremely catchy, it's well sung and the performance is really good too. Without understanding the lyrics, I am feeling the song right from the beginning, my attention is kept all through the song and when it ends, I am left with the feeling that this really stood out, and should have qualified for the final easily.
🇬🇧 Michael O. – This was a song that suddenly deserved to qualify after Poli reappeared at the 2016 contest. It's a fine enough entry, but sadly 2011 was a year full of great songs and this just wasn't strong enough.
🇨🇿 Josef Š. – Na Inat is not one of my favourites, but thanks to her latter entry from 2016, I really love Peli Genova as an artist. She is a good singer, but Na Inat was too rock-ish for my taste. It's not a bad song though. I would say just an average one.
🇬🇧 Ashleigh K. – I like this song more now that I'm listening to it again.. I can see why Poli's 2nd attempt at Eurovision did better. I think that her look was trying to be a bit too edgy in 2011, her hair was very short.. I don't like the fake arm tattoo sleeve.. she came across sweeter in the 2nd song. A great first attempt though from Poli which should have qualified.
🇳🇱 Eric O. – This was a wonderful song and a very good performance. Such a pity though that it didn't qualify for the Grand Final. Maybe it was the language of the song, that made it hard to understand the meaning? Luckily, Poli had a second chance in 2016 with If Love Was A Crime, which did very well and is now one of my favourite all-time Eurovision entries.
🇩🇰 Liza P. – This is one of my favourite songs from Bulgaria. Poli has an amazing energy on stage, and I love that she sings in Bulgarian. All though I still think that I like her 2016 entry better – but only a little bit better.
I think that Poli has a fantastic rocky voice, that fits the up-tempo song, and she definitely can hold the tune and energy through the whole song. A shame that she didn't qualify for the final. I can easily think of 3 songs from the semifinal, that she should have replaced in the final.
🇬🇧 Mhairi O. – For me 2011 was the strongest year however I feel this song gets overlooked sometimes because there were so many great ones. It's catchy, but Poli's best was yet to come.
🇷🇸 Miljan T. – While it's well sung, no doubt about that, I've never liked this song. It simply has too much of that poor sound we were used to for pop and rock music in our socialist countries here. For 2016, I didn't even know it's the same person until later. Very dated, shouty – i. e. people can't really sing along, boring. Sorry, Poli.
🇨🇴 🇫🇮 Alvaro S. – Although If Love Was A Crime is more memorable (both the song and the dress), there is something that makes Na Inat looks more authentic. It is not only the language but Poli Genova's performance is less over produced here and she seemed to enjoy going through the stage as a real rock star singer. I am happy she had a second shot in Eurovision.
Enjoy Poli Genova's performance from the 2011 Eurovision Song Contest in the embedded video. Below the video, you can read more about her.
Poli Genova – a mini biography
Born in February 1987, Poli Genova has achieved a lot career wise still being quite young. She started at the age of 8 in the Bulgarian children constellation Bon-Bon. Studying clarinet, she graduated from Lyubomir Pipkov National School of Music. Later, she also went to the Krastyo Sarafov National Academy for Theatre and Film Arts. Her classical training has made her able to evolve in different projects over the years.
As an adult, her first singe came in 2009. One Lifetime Is Not Enough finished second in the national final, and topped as #9 on the Bulgarian chart. Over the years, she has had success as a singer, actress, a TV host and mentor on talent shows like The Voice and X-Factor.
Poli has, to date, represented Bulgaria twice at the Eurovision Song Contest, and hosted the 2015 Junior Eurovision Song Contest.
Three national final and Eurovision appearances from Poli Genova
2009: Poli Genova came second in the Bulgarian national final with the song One Lifetime Is Not Enough
2011: Poli Genova represented Bulgaria at the Eurovision Song Contest. The song Na Inat however didn't reach the final.
2016 Poli Genova finished 4th at the Eurovision Song Cotest when she represented Bulgaria with the song If Love Was A Crime.