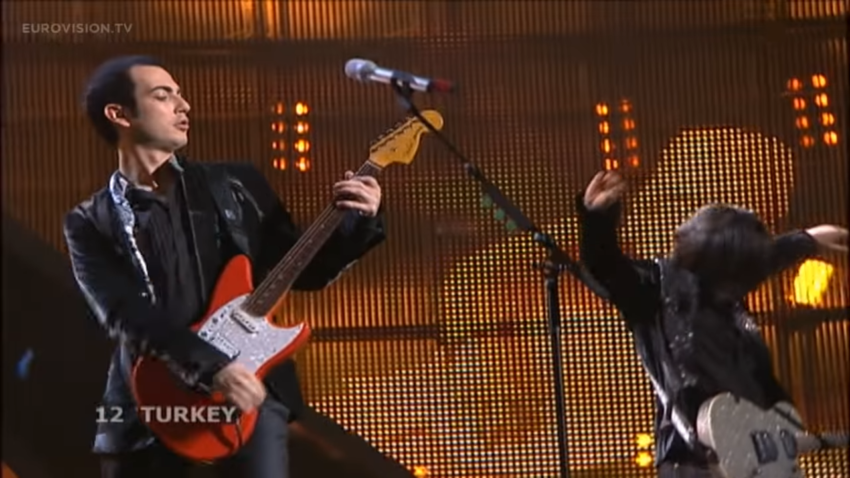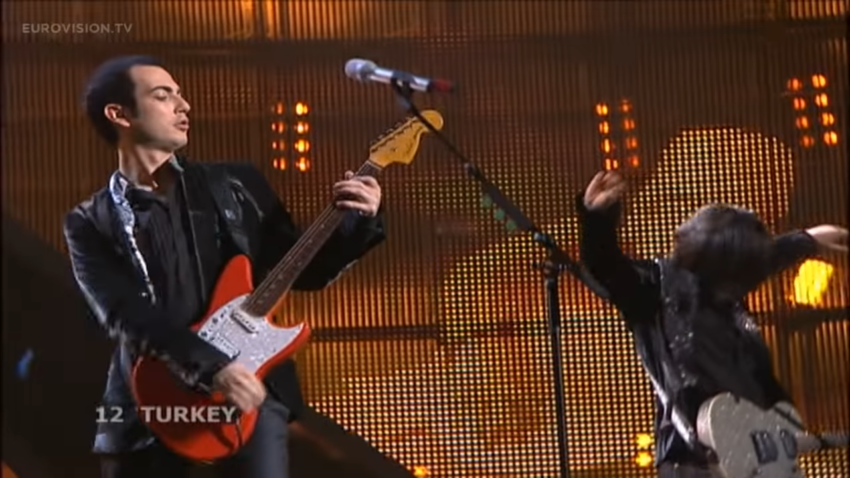 In 2008 popular rock band Mor ve Ötesi represented Turkey with the song 'Deli' (Crazy). The boys earned a respectable 7th place with a total of 138 points. This was one of the good results for Turkey.
Mor ve Ötesi was already a very popular rock band in Turkey when they were internally selected by Turkish broadcaster TRT. The broadcaster initially shortlisted five groups and artists they would like to represent them at the Eurovision Song Contest in 2008.
The five shortlisted acts also included now legendary Turkish singer Tarkan. Eventually, TRT however selected Mor ve Ötesi for the Eurovision task. The band members were left free to choose which language they would perform in. They chose Turkish.
Deli was then finally chosen by another selection jury on 21st of January 2008. The song was sung in Turkish with protest lyrics and a rock sound as their usual style.
Deli – opinions from fans
In order to find out what Eurovision fans think today of this Turkish entry from 2008, we asked our Eurovision Fan Panel. It includes team members as well as fans from all over the world.
🇵🇱 🇯🇪 Pawel J. – At the time, it wasn't one of my favourite songs in 2008. Only years after the contest, I started listening to it more often and I've grown to like it a lot. It's a typical for Turkey (at Eurovision) rock style number. Ended up as number 7 on both semi and grand final and I think that was kind of expected. Oh, I really miss Turkey in the contest!
Charlotte J. – This is the best Turkish entry in my opinion. While I don't think anyone I know will describe me as an actual rock chick, I am a sucker for this type of music when done well. Whenever a country sends a rock song, which is melodic, providing a strong guitar riff, some drums and powerful bas – and a chorus I can sing along to (no matter if I understand the lyrics or not), I am all onboard. Favourites like Mor ve Ötesi, WigWam (Norway 2005), Eiríkur Hauksson (Iceland 2007), Minus One (Cyprus 2016) and Highway (Montenegro 2016) prove that. More of this, please!
Miljan T. – I have to admit – 2008 I had only ears for Ukraine and Greece, and since ESC was in my town – Belgrade, I was there all the time and having met Kalomira a month ahead of and Ani Lorak during the ESC weeks, I totally glanced over Turkey. But, then during rehearsals it grew on me. Now looking back, it's one of the songs I remember dearly and still listen to. Later of course it proved that Turkey always sends good rock songs. Deli had strong riffs, excellent vocal performance and a well packaged stage presentation that put it deservedly into the top 10 back then. Turkey, we miss you.
Wouter V. – By most measures, this isn't a lot more than a mediocre poprock song. But the beautiful sung Turkish language turns it into so much more that. I love it. It doesn't hurt that even mediocre rock is better than no rock at all, especially at Eurovision.
William S. – In 2008, I was too interested in trash pop to understand how amazing this song was. I didn't understand at the time why it got such a high placing. In retrospect this is what I would call a masterpiece of Eurovision rock, something Turkey done perfectly.
Sara T. – This is my favourite Turkish entry and my 5th favourite Eurovision entry of all time! I never tire of it. I love the balance of the song – the mysteriousness of the verses and then the release of energy in the chorus. I also think the staging was great. The focus is purely on the song itself, and the band members seem to have so much fun on stage. I am very grateful that Eurovision helped me discover this amazing song and band ❤
Ashleigh K. – It is when I listen to songs like this that I miss Turkey at Eurovision. They do rock really well. maNga was also another great rock entry for Turkey. Great vocals from the lead singer – would like to see more like this in the contest.
Michael O. – I'm not a great fan of rock songs, and much prefer turkeys entry the following year, but the 2008 entry was different enough from the other songs to stand out. Not one I listen to much, but it's alright if it ever comes in randomly on you tube
Gunec G. – I've been a big fan of Mor ve Ötesi since their debut. When they were chosen for Eurovision, I remember screaming of joy 🙂 I was absolutely sure they would be successful and they didn't let me down. They didn't change their style for Eurovision and they've made their country and fans proud. I love their political, protest and oppositional style. Deli was no exception.
Enjoy Mor ve Ötesi's performance at the final of the 2008 Eurovision Song Contest in the embedded video. Below it, you can read more about the band.
Mor ve Ötesi – a mini biography
The group consists of Harun Tekin (lead vocals and guitar), Kerem Özyeğen (Electro Guitar), Burak Güven (Bass Guitar) and Kerem Kabadayı (Drums).
In 1996, they kicked off their musical career with the debut album Sehir (City). They have released 10 albums to date with the latest Günümüz back in 2015. They have also participated on 7 collective albums.
The group members (especially Harun Tekin) are known for their oppositional political ideas which is reflected in their music. As such, their music can be defined as protest rock. During lockdown, the band continued their concerts – this time online. It's today still an active and popular band in Turkey.