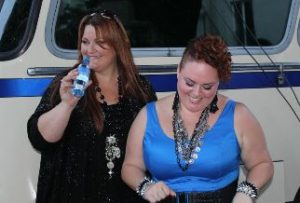 Two former Eurovision participants from each their part of Europe have joined forces on a new EP. Under the title Two Divas Icelandic Hera Björk and Maltese Chiara have released 5 songs, one of them being a duet of Dolly Parton's classic 9 to 5. 
The EP contains 5 songs, but only one of them is a duet. The other four are divided with two songs for each of the Two Divas. About the duet, which is a cover of the Dolly Parton hit 9 to 5 from 1980, Hera Björk says: "We've talked about doing a duet for a couple of years but somehow it hasn't worked out until now. When Valgeir Magnusson at Hands Up Music suggested the song "9 to 5" everything just clicked, and when we got Orlygur Smari on board, the outcome was bound to be good". 
It can often give a lot of conflics when two divas meet, but that was appeantly not the case with two two: "When we first met and started talking, we realized we were both big fans of each other as a singer. We laughed a lot and decided to do something together. And now when it finally happened everything worked out so perfectly", Chiara says about the relationship between Hera Björk and her. 
Hera Björk represented Iceland at the 2010 Eurovision Song Contest with the song Je Ne Sais Quo, but she already caught the attention of many fans with the song Someday, with which she finished second at the Danish national final in 2009. 
Chiara has represented Malta at the Eurovision Song Contest a total of three times. First in 1998 with The One That I Love, then again in 2005 with Angel and finally in 2009 singing What If We.  
Below you can hear the new duet 9 to 5. Besides this the EP also includes the following two songs from Hera Björk; Feel The Love Tonight and Because You Can. The latter is a song which Hera won a music festival in Chile with in the spring this year. From Chiara you find Zarbun and Forget Forgetting Me. In the coming weeks a short documentaray about the collaboration between the Two Divas will be released from the Icelandic production company Silent. 
You might also like to read: