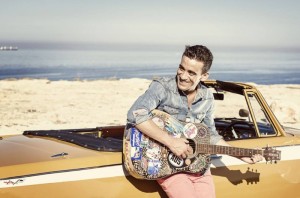 "Waiting For Tomorrow" is the title of the first album from the doctor Gianluca Bezzina, who represented Malta at this year's Eurovision Song Contest. It is now available in digital stores and the official worldwide release of the physical version will take place tomorrow. It contains his Eurovision entry along with nine other feelgood tracks.
The charming Gianluca Bezzina won over hearts all across Europe when he represented Malta at the 2013 Eurovision Song Contest where he finished eighth at the final being the best result that the island has had in years. Since then he has grown into one of the most successful artists in his country and he has been working on what has already become the debut album of his musical career.
Waiting For Tomorrow is his debut album and it is full of optimism and positive melodies and lyrics. The songs of this album have been written and produced by the same team behind his Eurovision entry, Boris Cezek and Dean Muscat, and all the tracks keep the good vibe of Tomorrow with influences from 60s pop, swing and soul.
Over the course of the summer Gianluca and his band have made a number of appearances to promote this new album. Some of those events were the annual concert of the prestigious Maltese tenor Joseph Calleja, the Farsons Beer Festival or the Ghaxaq Music Fest where he was sharing the stage with the Eurovision legend Johnny Logan.
The album has been published by Albam Records, an independent record label based in the United Kingdom, and one euro from all the physical albums sold will go into a fund to help young people with cancer and will also be used for buying medical equipment among other initiatives.

The track listing of the album is as follows:
1 Count Me In
2 Tomorrow
3 I'll Be There
4 Perfect
5 Light Me Up
6 High And Away
7 Picture
8 Happy Song
9 Walk On Blind
10 Perfectly In Tune
The digital release also includes exclusive bonus acoustic version of Tomorrow.
Below you can watch our 3D video of Gianluca Bezzina performing his 2013 Eurovision Song Contest entry Tomorrow. As always, we strongly recommend watching this video in 3D, as it was recorded, to enjoy it to its fullest, but if you do not have a pair of suitable glasses this can easily be turned off in the player below for regular 2D watching.
You might also want to read: