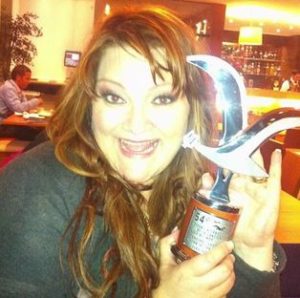 Last night Hera Björk won what can be considered the South American equivalent to the Eurovision Song Contest. From the stage in Chile she convincingly sang Because You Can to victory. The song is written by well known Danish and Swedish Eurovision and national final songwriters.
Viña del Mar is a prestigious music festival in Chile, South America held each year since 1960. Up until 1968 the contest was only open for national composers, but since then it has been open to musicians from the entire world allowing countries like Italy to win a total of 9 times and Spain 5 times. Iceland hasn't yet won the Eurovision Song Contest, but now they can instead brag about their first Viña del Mar victory.
The song Because You Can, which Hera Björk sang to victory is written by an international team of songwriters, some of them quite familiar to Eurovision fans; Jonas Gladnikoff, Christina Schilling, Camilla Gottschalck, Örlygur Smári and Hera Björk.
Jonas Gladnikoff is from Sweden, but has represented Ireland twice at the Eurovision Song Contest with the songs Et Cetera in 2009 and It's For You in 2010. The first one of these also had Christina Schilling among the list of songwriters.
Both Jonas, Christina and also Camilla Gottschalck have participated in national finals all around Europe.
Hera Björk first shot to fame in the world of Eurovision in the Danish final, Dansk Melodi Grand Prix, in 2009 where she came second with the song Someday being the runner up to Brinck. In 2010 she won the Icelandic national final and thus represented her home country with the song Je Ne Sais Quoi, which ended 19th in the final.
Below you can see Hera Björk perform Because You Can in the 2013 edition of Viña del Mar:
You might also want to read:
Iceland sends Eyþór Ingi Gunnlaugsson to Malmö tonight
Greta Salóme's debut album ready for imminent release
Emmelie de Forest wins Dansk Melodi Grand Prix 2013 – Only Teardrops from Denmark