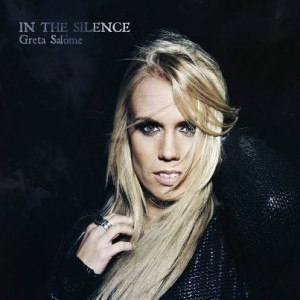 2012 has been a busy year for Ms Stefánsdóttir, providing her with a massive breakthrough in her native Iceland. With no fewer than two songs making it to the national final, Söngvakpenni Sjónvarpsins and her duet with Jónsi Never Forget lifting the title, it's time for Greta Salóme to make her album debut.
Since her cruising to victory together with Jónsi and the song Never Forget back in February, up and coming artist Greta Salóme has been beavering away in the studio on her debut album. With a background from the Icelandic Symphony Orchestra, the artist has certainly been able to put her experience and studies to good use. Never Forget went on to become a smash hit back home, swiftly followed by the second release Everywhere Around Me, appearing in August. The third track to be published is A Thousand More Goodbyes, which Greta Salóme herself uploaded onto YouTube earlier in the week.
Fans of Greta Salóme's style and blend of classical influences coupled with sweeping strings certainly won't be disappointed. Judging by the songs released so far, the budding starlet certainly has a number of surprises up her sleeve, with a number of tracks having a definitive rockier edge to them. Her debut album In The Silence has also seen Greta Salóme collaborate with one of the better known and influential Icelandic composers and producers, Þorvaldur Bjarni Þorvaldsson. He has previously worked alongside the likes of Silvia Night and Selma, giving the Eurovision thread a satisfying sense of continuity. His experience has proved invaluable in the making of the album, giving her guidance and constant reassurance throughout the whole recording process.
The album will feature twelve brand new tracks, two of which, Aldrei Sleppir Mér and Mundu Eftir Mér were heard earlier this year in the Söngvakeppni Sjónvarpsins final. With ten remaining tracks, Greta Salóme covers the entire musical spectrum, with a potent and atmospheric concoction of strings, rock, balladry, melancholy and powerful backing vocals. All songs are written and composed by the talented young artist herself. Commenting on her first solo album, Greta Salóme states that "Following Eurovision, we decided to go in a completely different direction. I suppose you could say that the material on my new album is both harder and softer at times. We wanted to make music that touched and affected people, music that speaks to people and which fans can relate to. I am delighted with the album and so immensely proud of the end result, which finally becomes a reality after many months of hard work."
In The Silence is due for release on the 13th of November on the Sena record label. Watch this space for more information and a review following the album's release.